Виступ делегації України на засіданні Ради Безпеки ООН на тему: «Підтримання миру та безпеки в Україні»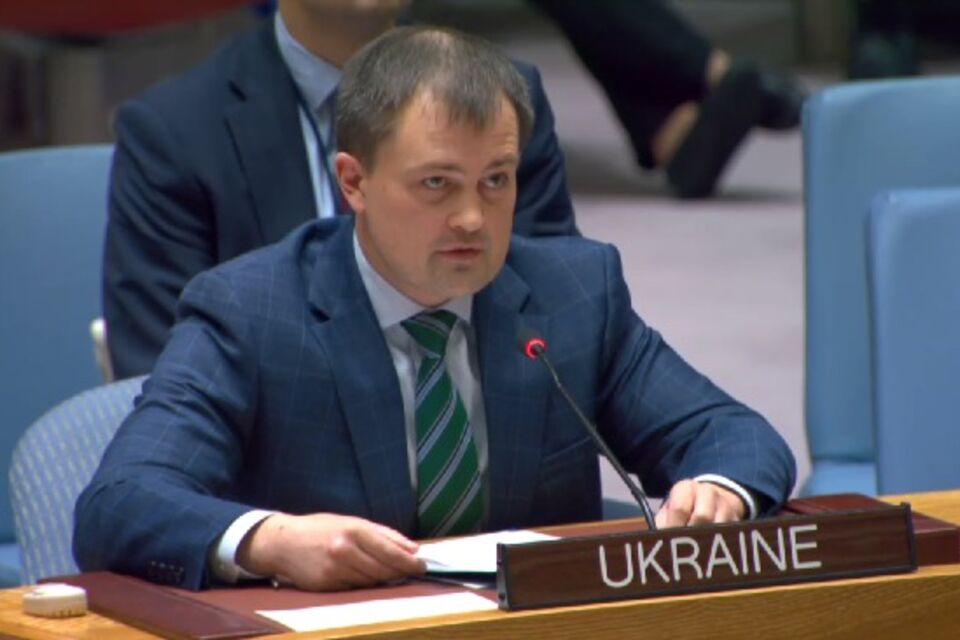 Mr. President,
distinguished members of the Security Council, Deputy to the High Representative,
I also recognize here putin's envoy in the permanent seat of the Soviet Union.
On Monday we drew attention of the Council that he might add another fake to the list of those, related to weapons supplies – this time about alleged transfers to the Middle East. We were not mistaken and by its statement Russia hit a new low. Actually, what else can we expect from terrorists and liars that already fed the Council with fairy tails about biolabs, dirty bombs and war mosquitos. As always, absence of any credible evidence that has been hidden behind plenty of pieces of information, randomly taken from internet or produced by the Russian propaganda.
It is worth having regret and condemnation that the Russian delegation continues its puerile practice to retaliate against the Security Council consideration of "Maintenance of international peace and security of Ukraine" agenda item with duplicating meetings.
It is a clear misuse of the Security Council's toolbox. At the same time, these pathetic attempts testify to the catastrophic consequences of Ukraine's resistance, underpinned by global solidarity, for putin's imperial plans and sentiments.
This solidarity is critical for my country. At the same time, it is solidarity in defense of the UN Charter, whose principles are now under crash test in Ukraine.
We reiterate our gratitude to all nations that have helped Ukraine to defend its sovereignty and territorial integrity, in full conformity with the Article 51 of the UN Charter, and to save our people from extermination.
Russia's full-scale invasion of Ukraine, its brutal actions on the ground, statements by putin and his accomplices, prove to these genocidal aspirations quite clear and we are appalled that Russia makes this Chamber serve as a platform to whitewash them.
Putin's envoy, for instance did it on Monday, while labelling all victims of the mass murder in the village of Hroza, whose number amounted to 59, as "top-ranked nationalists". Retirees, medical workers, farmers, teachers, entrepreneurs, among them mostly women. And even an eight-year-old child.
Despite how abhorrent and morally repugnant this justification attempt may sound for normal people, putin's envoy was honest in his claims. Indeed, all those identifying themselves as Ukrainians are "nationalists" in the Kremlin's eyes and, as such, an enemy subject to extermination.
We have sufficient grounds to say that the gathering in Hroza was purposefully targeted. This is evidenced not only by the indirect admission of putin's envoy at the previous meeting, but also by findings of the Security Service of Ukraine that two brothers with last name Momon, once residents of Hroza and collaborators who fled to Russia, may be responsible for collecting information about funeral reception and passing it to the Russian military.
Such mass murders completely fit Russia's genocidal logic and plans to bring to Ukraine as much destruction and pain as possible. Even schools are considered by Russia as legitimate targets. Just this week two tragic incidents happened. On 10 October Russian terrorists shelled a school in Krasnopillya, Sumy region, killing a 13-year-old girl. On the next day, Russian missiles destroyed a college in Nikopol, Dnipropetrovsk region. As a result, four people were killed.
Targeting schools and killing children, Russia tries to deprive us of our future. The future that we build together in the interest of the entire humankind – prosperous, safe, based on effective multilateralism, and free from wars, poverty and hunger.
Ukraine stands in defense of this vision of future and every success on the ground brings this vision closer to reality. For instance, strengthening our naval capacities has not only deterred the Russian Black Sea Fleet from approaching the Ukrainian shore, but has also enabled the unblocking of the grain exports by establishing temporary corridors for civilian vessels from and to Ukrainian ports.
Mr.President,
Putin speaks of his dreams about Ukraine that has one week left to live if weapon supplies are terminated. On Monday my delegation quoted him saying this. The truth is that he realizes that Ukraine is no longer his dream, it is his nightmare. He fears his imminent defeat in Ukraine and this fear prompts him to instruct his army to be senselessly cruel and cling on the stolen lands at any cost.
All nations fighting with terrorists, murderers and rapists, should enjoy the support of the international community, including by providing them with weaponry for real rather than declarative exercise of the right to self-defense.
I would like therefore to conclude my statement by reiterating our gratitude to all friends for solidarity that brings us closer to the end of horror that Ukraine and Ukrainians have lived through 597 days of full-fledged war of aggression as well as to ensuring comprehensive, just and lasting peace for Ukraine and security for the whole world.
I thank you.
Дивіться також