Виступ делегації України на Восьмій щодворічній зустрічі держав ПРограми дій ООН щодо протидії незаконній торгівлі ЛОСЗ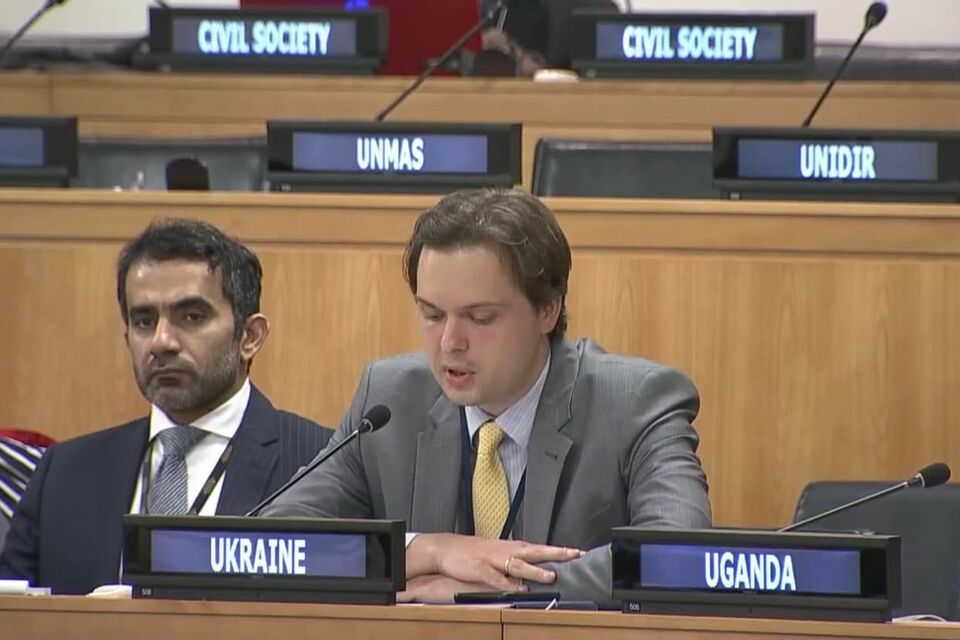 Mr. Chair,
At the outset, on behalf of the delegation of Ukraine I would like to congratulate you and other members of the Bureau on your election and wish you all the success in your work.
Ukraine remains extremely concerned about the fact that the illicit transfer, destabilizing accumulation and misuse of small arms and light weapons (SALW) continue to pose threats to international peace and security, cause significant loss of life and contribute to instability and insecurity in many regions of the world.
We recognize that the illicit trade in SALW is a global challenge, requiring concerted and effective efforts at the national, regional and global levels.
For our part, we have been strictly implementing the international instruments in the fields of SALW, including the UN Security Council resolutions, the UN Programme of Action and its International Tracing Instrument, the Firearms Protocol, as well as decisions of the Organization for Security and Cooperation in Europe and those taken within the Wassenaar Arrangement to comply fully with our respective obligations and commitments.
We would also like to inform that on 22 February 2022, Draft Law No. 5708 "On the Right to Civilian Firearms" was adopted in the first reading. The purpose of the Draft Law is to strengthen compliance with the rule of law in determining the legal regime of weapons' ownership, setting forth the basic rights and responsibilities of citizens and legal entities related to manufacture, acquisition, possession, disposal and use of weapons and ammunition, as well as regulation of other public relations in the field.
We pay particular attention to ensuring effective export control procedures, including in the sphere of brokering activity, that meet all standing international requirements.
Mr. Chair,
For more than 120 days russia has been waging a full-scale war against Ukraine. Russian forces has been attacking Ukrainian territory with the use of different types of conventional weapons, as well as SALW, which have already led to massive destruction of civilian infrastructure and terrible toll among civilians in different regions of Ukraine.
Despite the ongoing russia's aggression, we continue to effectively monitor and prevent illicit SALW trafficking channels through the territory, which is controlled by the Government of Ukraine.
However, the potential risk of uncontrolled SALW proliferation could rise as russia is actively drafting the local population in the Donbas region and other temporarily occupied regions of my country, as well as providing them with SALW and ammunition.
In this regard, it is clear that the restoration of European security and stability, which have been undermined to such the extent the world has not seen since the end of the Second World War, will be possible only after russia seizes its aggression against Ukraine and unconditionally withdraw all its forces and military equipment from the entire territory of Ukraine within its internationally recognized borders, including the temporarily occupied territories of Donetsk and Luhansk regions, and the Autonomous Republic of Crimea and the city of Sevastopol. Thank you, Mr. Chair.