Виступ Постійного представника України при ООН Сергія Кислиці у Раді Безпеці ООН з пункту порядку денного "Загрози міжнародному миру та безпеці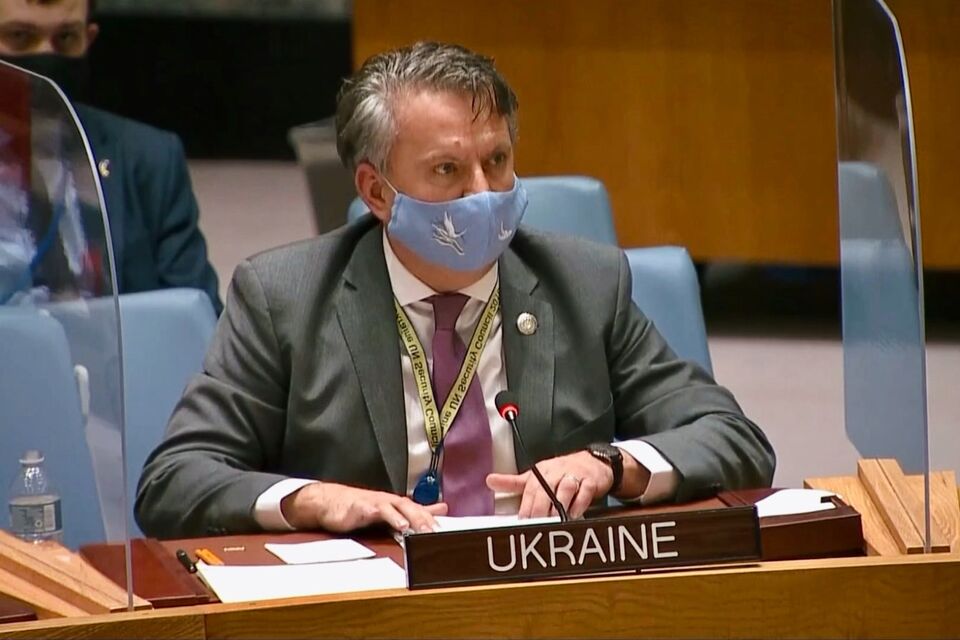 As delivered
Madame President,
I would like to express my gratitude to the Norwegian Presidency for calling this briefing of the Security Council of the need of which I spoke exactly a fortnight ago with H.E. Foreign Minister of Norway during our meeting here in New York. I express our thanks to the US who as a member of the Security Council in close coordination with Ukraine and partners requested today's briefing. And of course, I express our appreciation of the presentation by Under-Secretary-General DiCarlo.
It is a duty and need for the Security Council to be fully informed in case of grave threats to international peace and security. What is going on along the border with Ukraine – where the Russian Federation continues its military build-up – falls under the above qualification.
It's important that Ukraine's voice is heard today in the Security Council and is not lost in translation when position of my country has been "delivered" by a foreign ambassador in Russian. My leadership speaks its own language, has its own ambassadors, and spokespersons. Hence there is no need to interpret the words of Ukrainian officials. Especially if it's done as Humpty Dumpty (Шалтай – Болтай) spoke of the meaning of words. Even if Lewis Carroll appears to be a favorite writer of the Russian top diplomats.
Against a backdrop of an unprecedented sequence of high-level diplomatic contacts in the past few weeks, a serious talk in the Security Council is required more than ever: to present facts, to listen to each other's positions and concerns, as well as to outline further actions towards de-escalation.
The fact is that nowadays about 112 thousand Russian troops have been amassed around Ukraine's borders and in Crimea, and together with the maritime and aviation components their number reaches about 130 thousand troops.
Another fact is that the Russian troops are also being deployed to Belarus for the "Union Resolve 2022" joint drills to be held on 10-20 February. They include, in particular, "Iskander" missile divisions, S-400 "Triumph" and "Pantsir" anti-aircraft systems, Sukhoi-35 generation 4++ fighters.
On top of that, on 26 January, the Russian fleet started another military drill in the Black Sea with involvement of frigates, patrol ships, missile ships, assault landing ships and minesweepers. This reminds us of the ongoing heavy militarization of the temporarily occupied Crimea, the Black Sea and the Sea of Azov by Russia, which poses a serious threat to Ukraine, all littoral states and the wider region.
Significant reinforcement of combat capabilities of the Russian occupation forces in Donbas is another worrying trend. Currently, these formations consist of up to 35,000 personnel, including around 3,000 servicemen of the Russian Armed Forces on command posts and in other critical combat positions. In the border areas outside government control, illegal border crossings by cargo trains and truck convoys, delivering arms supplies to the Russian armed formations in Donbas, is a routine practice. OSCE SMM reports provide ample evidence of various illegal activities in the border areas. No surprise restrictions of the OSCE SMM freedom of movement are on the increase, in particular in non-government controlled areas close to the Ukraine-Russia frontier.
On 22 December 2021, the Trilateral Contact Group reached another understanding on resuming the ceasefire regime. Nevertheless, shootings, shelling, sniper fire on Ukrainian positions, and systematic use of attack UAVs against Ukrainian troops have not stopped. We have lost 12 servicemen killed in action and 14 wounded since 22 December 2021. Just a few days ago, on January 25, armed formations of the Russian Federation once again attacked the positions of the Armed Forces of Ukraine in the area of Pyshchevyk, Donetsk region, using an attack UAV. VOG-17 fragmentation grenades dropped from that UAV resulted in severe injuries to two Ukrainian servicemen.
The current impasse in the consultation process within the framework of the TCG continues on practically all tracks, while the decisions adopted by the Normandy format leaders during their December 2019 summit in Paris remain unimplemented.
Over the past year and a half, we have seen deliberate efforts by the Russian side to obstruct TCG activities and even to prevent finalization of the already agreed - including at the expert level - arrangements within TCG in the security and humanitarian areas.
All this is accompanied by Russia`s stubborn denial of being a party to the armed conflict that has been raging for eight years now in the Donbas region of Ukraine, attempts to impose a so-called "direct dialogue" with its puppet occupation administrations as well as refusal to engage in substantive discussion on political settlement of the conflict.
The question is why all these Russian forces are there? We have asked this question on different fora along with sending own clear messages. Ukraine is not going to launch military offensive neither in Donbas nor in Crimea nor anywhere else. Ukraine sees no alternative to peaceful resolution of the ongoing conflict and restoration of its sovereignty and territorial integrity.
Yet, we also see a surge in Russian disinformation campaign, including false accusations of Ukraine plotting a military attack. This is not going to happen. This is direct evidence of Russia's unwillingness to de-escalate and prepare to justify its possible further aggression. We are well aware of Russia's history of ploys and provocations, and we will do everything possible to prevent another Mainila-type provocation by Russia.
Once again, I have clear instructions from my Government to reiterate today the absence of any aggressive intention as well as Ukraine's strong commitment to peace.
Today we have heard from the Russian side that they do not intend to launch a war against my country, although one should rather speak about launching a new phase of the Russian aggression.
It is very important message as we still lack credible explanations by Russia of its actions and military movements. Based on experience we cannot believe Russian declarations but only practical moves on withdrawal of troops from the border.
Madame President,
Ukraine strongly rejects any attempt to use the threat of force as an instrument of pressure to make Ukraine and our partners accept illegitimate demands.
There is no room for compromise on principal issues. The most principled position for Ukraine is that we have inherent sovereign right to choose our own security arrangements, including treaties of alliance, which cannot be questioned by Russia.
Moreover, this right is enshrined in many international legal instruments that Russia itself is a party to.
Ukraine will not bow to threats aimed at weakening Ukraine, undermining its economic and financial stability and inciting public frustration. This will not happen and the Kremlin must remember that Ukraine is ready to defend itself.
At the same time, we support the need to keep diplomatic channels with Russia open, if that prevents a shift to military tools. My President has reiterated most recently that he is ready to meet his Russian counterpart. If Russia has any questions to Ukraine, it is better to meet and talk, not to bring troops to the Ukrainian borders and intimidate Ukrainian people.
For Ukraine, the first priority today is to achieve a sustainable and unconditional ceasefire in Donbas. The ceasefire regime must be guaranteed, reliable, and on this basis, further steps can be taken.
Intensification of the work of the Normandy format, including at the level of leaders of the four countries, is an important prerequisite for next steps towards lasting peace in Donbas, and we are ready to resume N4 talks in all formats. The recent political advisers` meeting on 26 January in Paris, despite many differences, gives a hope for a continuation of the negotiation process, which Ukraine will staunchly support.
Madame President,
We consider that despite the Russian attempt to impede the briefing from being held, the Security Council and the wider UN membership have received today a very important information. Information that the members of the Security Council need to take an informed decision when appropriate to act swiftly and decisively in employing preventive diplomacy under the Chapter VI of the UN Charter that rests on the Security Council responsibility to investigate any dispute, or any situation which might lead to international friction or give rise to a dispute.
After listening to the Russian Ambassador today I would like to ask how long Russia will pursue its clear attempt to push Ukraine and its partners into a Kafka trap? And still, I perhaps should acknowledge that it was important to hear the Russian envoy today, and yet I must end with what my Foreign Minister has recently said, "If Russian officials are serious when they say they don't want a new war, Russia must continue diplomatic engagement, and pull back military forces amassed along Ukraine's borders and in temporarily occupied territories of Ukraine. Diplomacy is the only responsible way." End of quote.
Let's judge by actions, and not by riddles, and semantic puzzles.
Thank you for your attention.