Коментар Міністра закордонних справ України Дмитра Кулеби щодо переговорів між США та РФ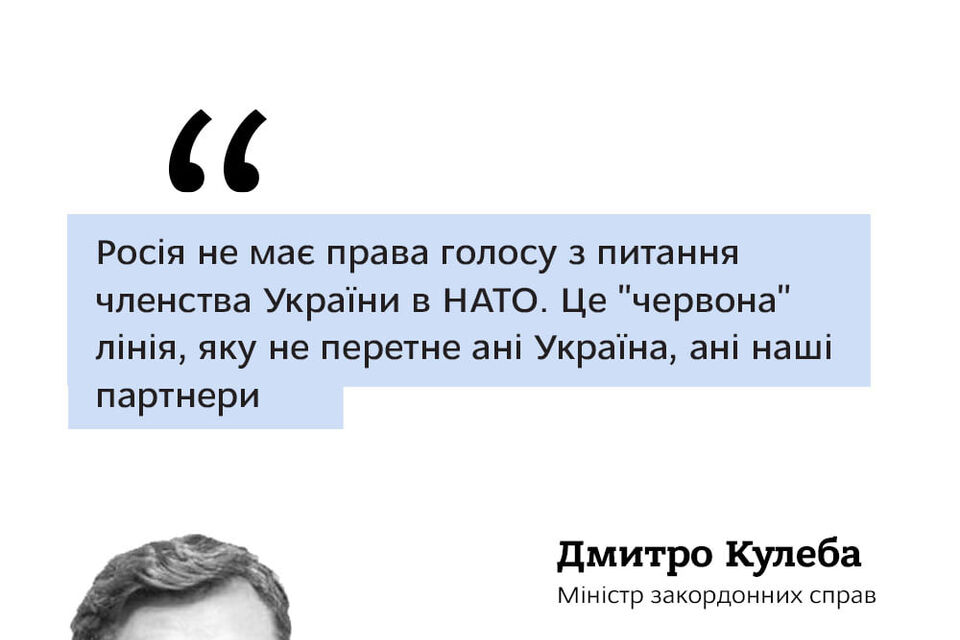 Comment of Mr. Dmytro Kuleba, Minister for Foreign Affairs of Ukraine, on the negotiations between the United States of America and Russia for "RBC Ukraine".
The session of Ukraine-NATO Commission in Brussels and the United States and Russian delegations talks in Geneva ushered in a week of major diplomacy in Europe. It is too early to draw comprehensive conclusions as two more key events are still in store: the NATO-Russia Council and the meeting of the OSCE Permanent Council.
However, the general picture is already shaping up. The Russian Federation had initiated talks on the so-called 'security guarantees' to raise the stakes to the maximum by making intentionally unacceptable demands. The situation appears especially cynical as Russia is demanding security guarantees at a time when itsover 100,000-strong force is brandishing arms on Ukraine's borders, holding Crimea hostage and fighting in Donbas, Russian special services are undermining security at Belarus' borders with Poland and Lithuania, and gas supplies are being transformed into an instrument of foreign policy. Russia does not have a say in Ukraine's NATO membership. Neither Ukraine not our partners will ever cross this red line.
The collective West will not agree to give Russia 'legal guarantees' of the Alliance's non-enlargement eastward, as this would become its strategic defeat. Over the recent weeks, we have been working most intensively with our partners to consolidate the diplomatic principle of 'there must be no decisions on Ukraine without Ukraine'. This is precisely the clear signal the Russians received in Geneva. The US will not approve any decisions on Ukraine without Ukraine, on Europe without Europe, on NATO without NATO.
The unity of the collective West destroys Russian hopes to make arrangements with the Americans while other partners are sidestepped. Ukraine continues working intensively to strengthen the international unity in the face of today's threats. This is a key element in the strategy to counteract Russia and part of a complex package to deter Russia from further aggression.
Ukraine is committed to a fundamental point: no matter how long Russian diplomats go around in circles, the starting point towards discussion on security guarantees in the Euro-Atlantic region must begin with Russia deescalating the security situation on Ukraine's borders and withdrawing from Donbas and Crimea. I am glad to observe that our consistent efforts are yielding their results: understanding is increasing among our partners that Euro-Atlantic security is impossible while Ukraine is in danger.