Виступ директора Департаменту міжнародної безпеки МЗС України Сергія Шутенка на відкритих дебатах РБ ООН щодо нерозповсюдження зброї масового знищення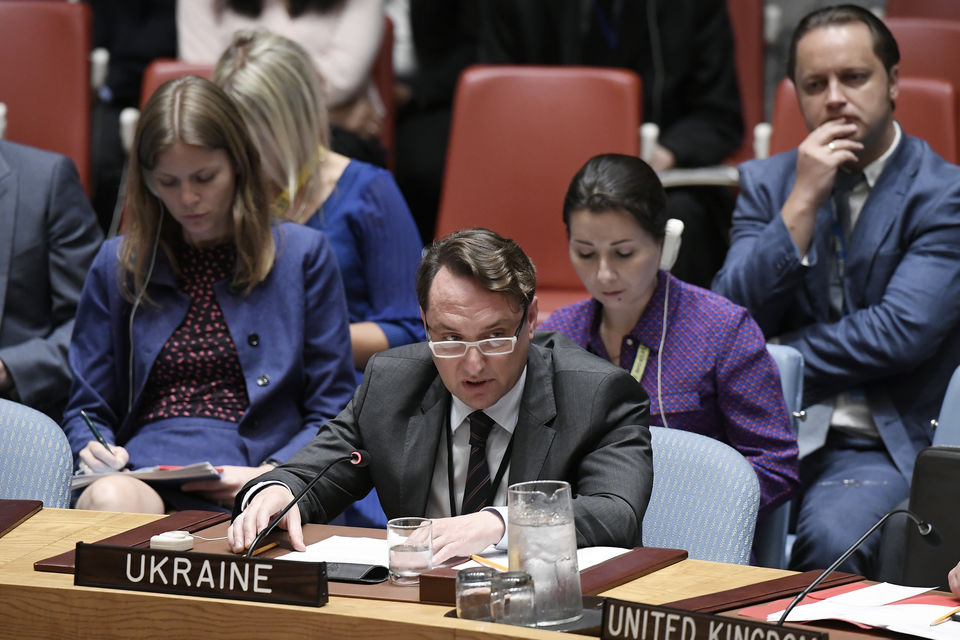 As prepared. Check against delivery
Statement of Delegation of Ukraine on SC Open Debate "Non-proliferation of Weapons of Mass Destruction"
28 June 2017
At the outset I'd like to thank the Bolivian Presidency for holding today's Open Debate on WMD non-proliferation and for your statement delivered in a capacity of the Chair of 1540 Committee.
Mr. President,
While fully aligning with the statement of the European Union, to be delivered later during the Open Debate, I would like to make some national comments on the topic.
I fully share the view that the uniqueness of resolution 1540 is stipulated by its complementarity of the existing international regimes of non-proliferation of nuclear, chemical and biological weapons and means of their delivery. Resolution 1540 adds a new dimension to the issue of non-proliferation by addressing the illegal trafficking of the relevant materials and prohibiting their acquisition by the non-state actors, including terrorists.
The year of 2016 marked a significant stage in fostering the WMD non-proliferation. I wish to reconfirm Ukraine's support to the outcomes of the recent Comprehensive Review process, which culminated in unanimous adoption of resolution 2325 last year. Conclusions and recommendations of the 2016 Comprehensive Review, once properly implemented, will reinforce resolution 1540. The Review report, while clearly demonstrating the differentiated implementation progress regarding both WMD types and various obligations contained in the resolution 1540, helps to define specific areas for each concerned party as to where national or regional efforts should be intensified. Indeed, many significant challenges still remain in keeping the world's most dangerous materials from falling into the wrong hands, both intentionally or as a result of neglect or oversight.
Ukraine, as a state with a nuclear-weapons-past and a full-fledged Party to the NPT, CWC, BWC as well as all export control regimes, is strongly committed to full implementation of resolution 1540 and is determined to further increase the effectiveness of the national response to combat proliferation through collaboration, capacity-building and outreach.
Mr. President,
Despite all measures taken by the Member States to reduce proliferation risks, we are witnessing growing and even more sophisticated challenges in this area. These risks arise not only from gaps in national legislation or insufficient resources, but also from the rapid development of science and technology, as well as e-commerce along with a lack of threat awareness among academia, industry and civil society.
In the past decade chemical and biological agents are quite often referred to as the potential weapons of terrorists, other non-state actors and the rogue states. Regrettably, there have been several confirmed cases of the use of chemical weapons, particularly in Syria, Iraq and Malaysia. Ukraine's positon in this regard is very clear - there can be no impunity and all the perpetrators must be brought to justice. We stand united in condemning, in the strongest terms, any use of any type of WMD, which constitutes a violation of international law, a war crime, and a crime against humanity.
Erosion of the existing world order, continuous breaches and unaddressed violations of international law along with ongoing conflicts in different parts of the globe continue to weaken CBRN security architecture as a whole. It is crucial to find practical ways to ensure that the international legal norms related to WMD non-proliferation does not remain on paper but also properly enforced and fully respected. The international community should act united and decisively in preventing any attempts and countering every action to endanger the relevant international instruments through either aggressive policy, violation of State's sovereignty and territorial integrity or through blocking important decisions to be adopted by the UN or its bodies.
Mr. President,
With a view of tackling the growing threat of WMD proliferation globally, the intensification of effective interactions among States and building synergies among all stakeholders including relevant international, regional, sub-regional, non-governmental organizations and civil society is an important and urgent task.
In this regard I wish to commend the historical contribution of Spain, the previous Chair of the 1540 Committee, to strengthening the role of resolution 1540 for a long-term perspective, including the establishing last year the resolution's Group of Friends. We fully support the statement on behalf of this Group to be delivered later today.
As far as the broader context of the global non-proliferation efforts is concerned I cannot but mention that Ukraine attaches particular importance to the Global Partnership Initiative as a proper format for strengthening capabilities to resist today's threats and challenges in the area of WMD proliferation, including its terrorist dimension. In this regard my country appreciates the efforts of Italy as G-7 Presidency for able leadership in this area and promising results of the last GP Working Group meeting in Rome in February 2017.
Mr. President,
To conclude, I wish to reiterate that facilitating full implementation of resolution 1540 underpins my country's position in the field of non-proliferation and antiterrorist activities.
Ukraine remains to be engaged constructively both within 1540 Committee and with broader UN membership to ensure that the outcomes of the Comprehensive Review will bear fruit. In this regard, I'd like to mention that in November this year, in Kyiv, the International Workshop on «Promoting the effective implementation of resolution 1540 in the context of evolving proliferation risks and challenges» will be held in cooperation with UNODA and OSCE.
I thank you.