Statement by Permanent Representative of Ukraine to the UN Mr. Sergiy Kyslytsya in explanation of vote on the draft resolution on the situation of humann rights in Crimea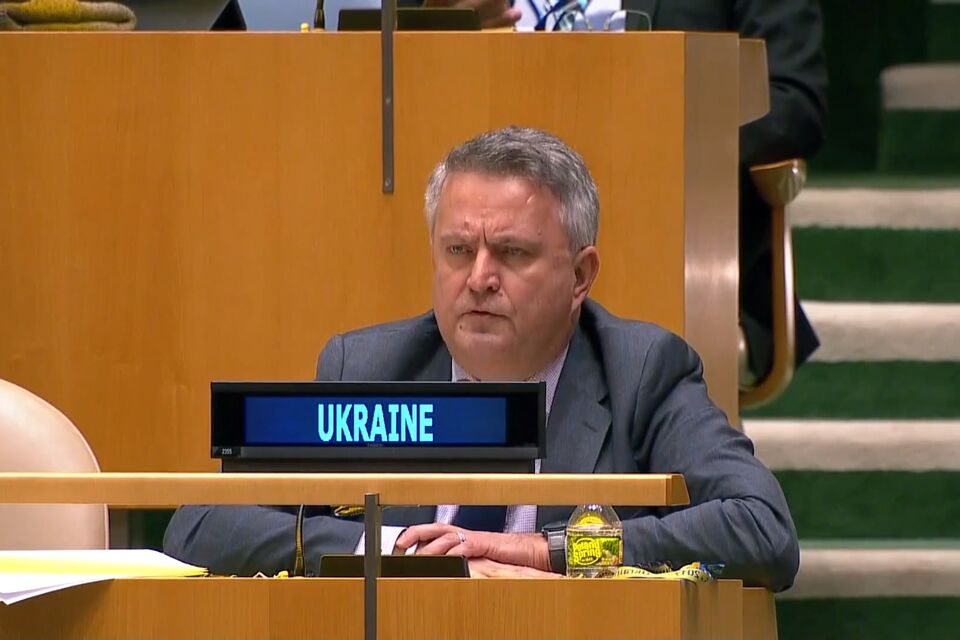 Mr. President,
Just five days ago, the world commemorated adoption of the Universal Declaration of Human Rights. Over 190 countries have endorsed this important document.
For almost 9 years crimes of all possible nature against Ukrainian people – most explicit disregard for the ideas and values enshrined in the Declaration, have been committed by the Moscow regime on the territory of Ukraine.
Forcible deportation, filtration camps, illegal detention, tortures, executions, attacks on civilians and civilian infrastructure with missiles and drones – these are massive crimes against humanity committed by the Russian Federation.
Thousands of Ukrainian prisoners of war and civilians remain in terrible conditions in detention on the temporarily occupied territories of Ukraine or in Russia.
Mass forced deportation of Ukrainian children to Russia remains extremely acute issue. Hundreds of orphans or children without parental care, in violation of IHL, were given for adoption by Russian families.
These are war crimes that will inevitably bring everyone, including, top authorities of the Moscow regime to the International Tribunal.
In the occupied Crimea, for years, OHCHR has received credible information concerning alleged killings, arbitrary detentions, enforced disappearances, as well as torture and ill-treatment. Journalists, human rights defenders and defence lawyers face interference and persecution. Russia continues the illegal conscription of protected persons and uses them in its hostilities against Ukraine.
As stated in this year's draft resolution, "the temporary occupation of Crimea became a blueprint for a grave human rights crisis in other territories of Ukraine under temporary military control by Russia".
Crimea was also used by Russia as a military base and a springboard for its attack on other southern parts of Ukraine, in particular Kherson and Zaporizhzhia regions, as reflected in the latest Secretary-General's Report 77/220.
Mr. President,
Ukraine wants peace more than anyone else. Peace means restoring respect for the UN Charter. Peace means the liberation of our people from horrors of Russia's terror machine. The only way is a full restoration of sovereignty and territorial integrity of Ukraine. This is also the only and effective solution to guarantee European and global security.
That is why the President Zelenskyy has put forward his ten-point peace plan. And we invite the membership to take careful look on this proposal.
Crimea and all temporarily occupied territories of Ukraine will be liberated. Respect for human rights and fundamental freedoms will be restored on these territories the very day Ukraine returns them back.
In the meantime, human rights and fundamental freedoms on the temporarily occupied territories of Ukraine need our constant attention and protection. The voice of the General Assembly in their support and condemnation of all crimes committed by the aggressor state must be louder and stronger than ever. And we just witnessed it.
For this purpose, this year's draft resolution, that has been just adopted, "Situation of human rights in the temporarily occupied Autonomous Republic of Crimea and the city of Sevastopol, Ukraine" was substantially updated based upon the extensive findings and recommendations of the Secretary-General, contained in his two Reports on the matter as well as refers to the ongoing Russian war of aggression against Ukraine.
It will remain a practical tool in the hands of the United Nations, its Secretariat and the Monitoring Mission in Ukraine to provide credible information about the human rights violations and abuses in the temporarily occupied Crimea.
I would like to finish with expressing my gratitude to all Member States from all regions who supported the draft.
Thank you very much!