Statement by Permanent Representative of Ukraine to the UN Mr. Sergiy Kyslytsya at the UN Security Council meeting on "Maintenance of peace and security of Ukraine"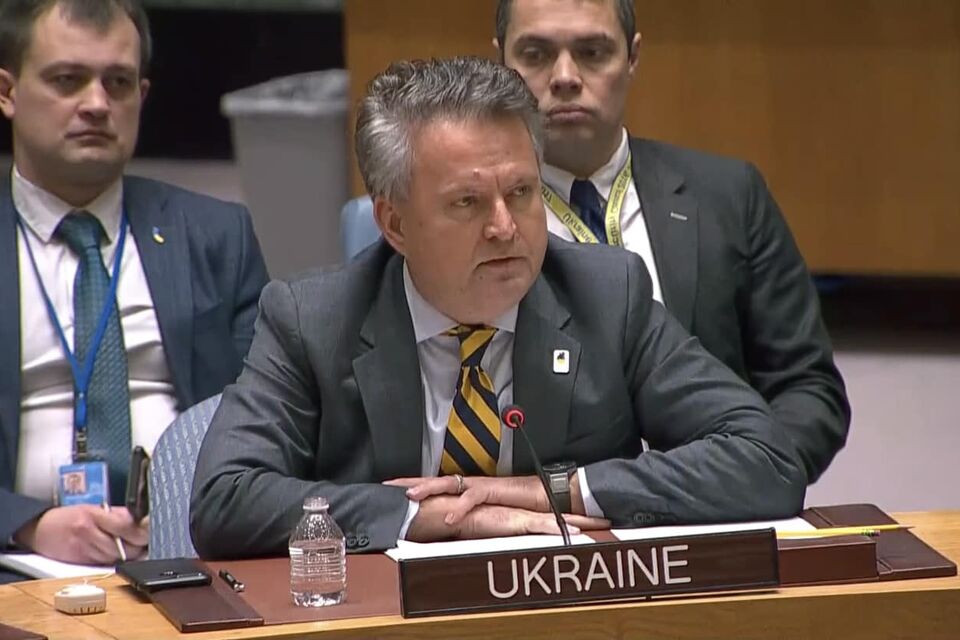 Madam President, distinguished members of the Security Council, Under-Secretary-General Griffiths,
I also recognize here the representative of terrorist Moscow regime in the permanent seat of the Soviet Union.
Today, on Ukrainian Armed Forces Day, in Security Council I salute Ukraine's heroic & invincible soldiers fighting for their country, for their families, for everyone's free future. The aggressor will be defeated, & the war criminal will be held to account.
It is yet another meeting in which this representative tries to convince the Council of his country's readiness for peace. And the hypocrisy of his words has again been revealed by the deeds of his country on the ground.
Yesterday, Ukraine sustained another wave of russian missile terror. More than 70 missiles were launched from aircraft and ships to hit critical infrastructure throughout Ukraine.
The Ukrainian Armed Forces were able to intercept almost 60 of these missiles. We are grateful to the responsible nations throughout the world that contribute to enhancing Ukraine's air defence and thus to saving the lives of innocent civilians.
At the same time, even a single missile hitting a target can cause a lot of harm and pain. All Ukrainian regions suffered from emergency power outages and millions of people were left without electricity, heat and water amid freezing temperatures. At least four people were killed and several, including a 2-year-old child, were wounded as a result of the attack.
Given the reports on missile fragments being found in Moldova following yesterday's strike by russia, we reiterate that russian missile terror poses a dangerous threat not only to Ukraine but to the neighbouring countries as well. The only way to prevent this spillover effect is to continue supporting Ukraine by further strengthening our air defence and missile defence capacities.
We also welcome in this regard the readiness of our friends to ensure immediate assistance to Ukrainians in meeting their urgent needs and in strengthening the civilian resilience of the Ukrainian people following russian terrorist attacks on our infrastructure. The international Conference 'Standing with the Ukrainian people", organized by France and Ukraine in Paris on December, 13, serves as a good example of such efforts. We encourage the UN Member States and the leadership of the UN Secretariat to participate at the event.
Madam President,
It speaks volumes that Moscow decided to attack Ukraine's civilian infrastructure and its people on the anniversary of the Budapest Memorandum. On 5 December 1994 in Budapest the Kremlin granted security assurances to Ukraine, committing in particular to respect Ukraine's independence and sovereignty and the existing borders and reaffirming that none of its weapons "will ever be used against Ukraine".
Almost every single day russia demonstrates that its assurances are of no worth. Be it those that Moscow gave in the past, or those they speak about now or those they may offer in the future.
Indeed, sometimes the Kremlin might seem to take an adequate position as the then president Yeltsin did. In particular, in his letter to President Clinton dated November 2, 1994, Yeltsin conveyed his readiness "to make a decision now with regard to signing a document on guaranties" and expressed his confidence that "the leaders' signatures should seal a really milestone document which would cover all the concerns of Ukraine which is fraternal to us".
The problem is that the post-Soviet transformation in russia was not underpinned by decommunization and the dismantling of the authoritarian style of leadership thus led to putinism instead of democracy.
The lessons of history must be learned this time in order not to let the tragedies be repeated again. After the military defeat of russia, which is imminent, the deputinization and denuclearization of this territory must follow. By marking the anniversary of Budapest with a missile strike on Ukraine, the Kremlin finally showed it has no moral or legal grounds for possessing nuclear weapons.
It means that while the Armed Forces of Ukraine continue to do their job to defeat russia militarily, the international community has to start considering the modalities of post-putin arrangements with Moscow. Arrangements that should include a new Budapest memorandum to be signed by Moscow in the context of its denuclearization.
It is still to be seen how soon after its military defeat and by whom this document could be signed on behalf of the territory with administrative center in Moscow. It is clear that such an arrangement would require credible counterparts and neither putin nor any of his cronies can be considered trustworthy.
Distinguished colleagues,
Ukraine needs peace and Ukraine wants peace. More than any other country. It is our territory that has been invaded, it is our people that are being killed, it is our homes that are being destroyed or robbed by the russian army. Please keep this in mind every time Moscow attempts to wear sheep's clothing and to persuade us that it not the aggressor but the victim who resists peace efforts.
Ukraine indeed resists. Not peace, of course. We resist Moscow's attempts to erase us from the map. We also resist the russian strategy of buying time under the guise of "peace efforts" to replenish its military arsenal, to build strongholds in the occupied territories and to prepare for a new attack, be it in two or five or seven years.
Putin's representative here tells us about peace but his masters in Moscow at the same time claim that russia will not leave the territory of Ukraine. In a nutshell, the so-called "peace a la Kremlin" would be built upon violations of the UN Charter.
Madam President,
Moscow's vision of "peace" means as well that all Ukrainians in the occupied territories would be left in danger. Unprotected from abduction, detention, torture, looting and execution-style killing. In all Ukrainian territories still under russian control, the occupation authorities regard any local resident as a potential enemy. That is why, while retreating, russian troops leave behind mass graves and torture chambers. This was the case in Kyiv and the northern regions in April, in Kharkiv region in September and in Kherson last month.
At the end of November Ukrainian law-enforcement exhumed a mass grave in the liberated village of Pravdyne, Kherson region. According to eyewitness accounts, in April occupiers killed seven people, including a teenage girl, in a private house, which they then blew up. Local residents were forbidden to bury the remains for a long time. Another episode of the russian war of aggression. Seven more human lives taken for nothing.
Putin's delegate could only respond to the huge amount of evidence of russian war crimes by claiming all these to be a provocation because he is not aware of the names of the victims. I realize it is just the cynicism of the war criminal's accomplice, but I would like to highlight one name today. Not for him, it is useless. For the memory of a decent Ukrainian.
Several days ago, a DNA examination confirmed that one of the bodies found in the mass grave in Izium, Kharkiv region, belonged to a well-known Ukrainian children's writer Volodymyr Vakulenko. His village near Izium was occupied at the very beginning of the invasion and he stayed there because of his son diagnosed with autism spectrum disorder. A peaceful civilian whose only guilt in the eyes of russians was his affiliation with Ukrainian literature. And that was enough for them to detain Mr.Vakulenko at the end of March and to kill him.
The teenager son of the killed Ukrainian writer will live with the memories of his father as one of the heroes. He will read his father's books and they will warp up his heart.
Let me ask the russian diplomats in this Chamber what legacy they will live behind for their children? The volumes of lies and shameful attempts to whitewash war crimes and genocide? What a miserable and painful gift for their children?
Distinguished colleagues,
We remain concerned over the vile practice of family separations and mass deportations of children from the occupied territories of Ukraine to Russia. To date, the Ukrainian authorities have identified 12,340 children deported to Russia or the territories of Ukraine temporarily occupied by Russia. Up to now, only 119 deported children have been returned to their relatives in Ukraine.
We urge Moscow to cease its illegal practice and to immediately provide the relevant UN bodies and international organizations with full information on Ukraine's children abducted or deported to its territory, including those children who were subsequently adopted or transferred to foster families.
We call on the UN authorities as well as the international community not to be silent about these crimes and demand Russia to provide access to these children and facilitate their safe return and family reunification in line with the best interests of the child and in accordance with international law.
Madam President,
Struggling for its citizens, in particular for its children, remains the centerpiece of Ukraine's peace efforts. We see the way to peace as a consequent and incremental process. This process should lay the foundations for sustainable peace and security, not encourage the aggressor to conduct new attacks by tolerating its violations.
Back in November we informed the Security Council of the Peace Formula plan, proposed by President Zelenskyy. It includes 10 steps that would lead us all to a sustainable and lasting peace. Let me remind you that the list includes: radiation and nuclear safety, food security, energy security; release of all prisoners and deportees, restoration of Ukraine's territorial integrity according to the UN Charter; withdrawal of russian troops; justice; preventing ecocide; preventing escalation and legal confirmation of the end of the war.
I am grateful to those members of the Security Council that have emphasized today the viability of this plan. We invite UN Member States to take leadership or participate in any of the ten points of the plan. It is time to start its implementation.
The progress in implementation of the Black Sea Grain initiative could serve as an example of the real progress in practice. Almost 12.5 million tons of foodstuffs have already been sent to 38 countries, including ten African states.
Another important development of the past week was a start of practical implementation of initiative "Grain From Ukraine". As of now, more than 30 countries and the EU declared their financial participation in the humanitarian programme 'Grain From Ukraine", initiated by President Zelenskyy.
The general scope of announced pledges has already amounted almost to 190 million USD. In the framework of the programme on 4 December the first ship already delivered 25 thousand tons of Ukrainian wheat for Ethiopia to the port of Doraleh, Djibouti.
Yesterday, another ship set off for Ethiopia, loaded with 30 thousand tons of wheat. Two more ships are now being loaded at the seaport of Chornomorsk and they are due to deliver 60 thousand tons of wheat for Somalia and Sudan. In general, within the framework of this important humanitarian initiative our state is going to send more than 60 ships to Ethiopia, Sudan, South Sudan, Somali, Kenya, Yemen and other countries.
More than 30 countries have already offered their support to the Grain From Ukraine Programme, initiated by President Zelenskyy. They are Austria, Belgium, Bulgaria, Great Britain, Greece, Estonia, Ireland, Spain, Italy, Canada, Qatar, Latvia, Lithuania, the Netherlands, Germany, Norway, Poland, Portugal, Romania, Slovenia, USA, Türkiye, Hungary, Finland, France, Croatia, Czech Republic, Switzerland, Sweden, as well as EU, NATO, UN and other international organizations.
There are two reasons why this programme is important. First, it is the support of Ukrainian agriculture, our farmers amidst the hardships of war. Second, it destroys the russian propaganda in the countries of Global South because they see that russia is a problem while Ukraine is a rescuer. We continue to work on enlarging the group of countries that support the humanitarian programme "Grain From Ukraine" and increase the scope of financial contributions to this programme.
Distinguished colleagues,
We harbor no illusions about russian readiness for peace. For the time being it is a militarized and brainwashed society ruled by war criminals and educated with hatred. As long as they have resources, they will continue to attack Ukraine, global security architecture and the international order based on the UN Charter.
Moscow must be deprived of its ability to produce missiles, to finance military activities in Ukraine, to threaten the world with saber-rattling. We encourage responsible and peace-loving nations to continue seeking relevant opportunities, in particular to deprive Moscow of fossil-fuel revenues used to finance the war. In this regard, the decision to cap the price of russian oil is a first step in the right direction, although the upper limit requires further adjustments.
It is completely useless to beg Moscow for peace or to appeal to their common sense. Moscow can only be forced into peace as this is the only language they understand and respond to. As soon as this strategy is applied by all, sustainable peace as well as the restoration of respect for principles of the UN Charter will be within reach.
I thank you.