Joint Statement of the group of countries to the 15th Session of the Conference of States Parties to the Convention on the Rights of Persons with Disabilities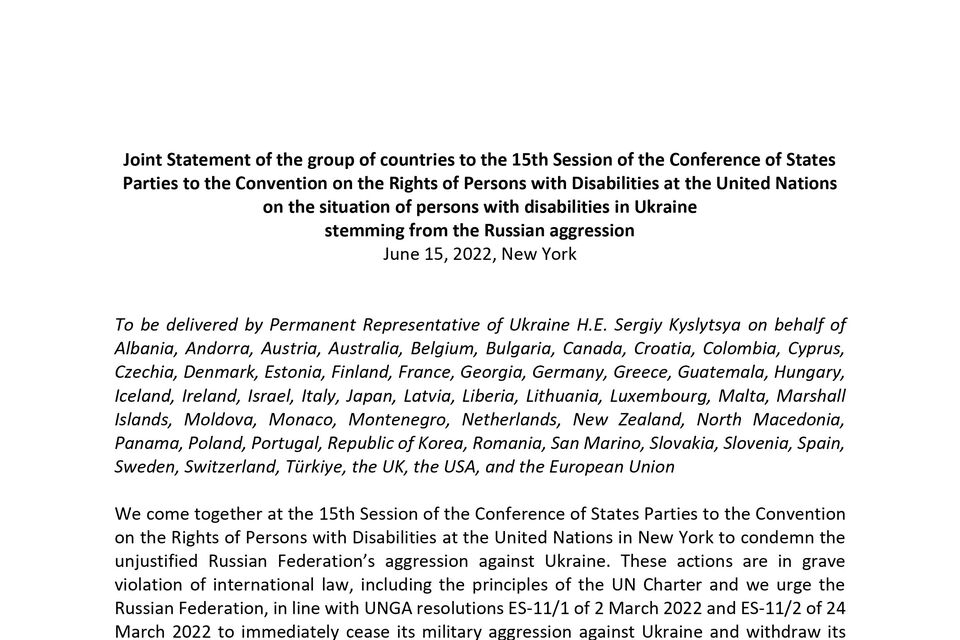 Joint Statement of the group of countries to the 15th Session of the Conference of States Parties to the Convention on the Rights of Persons with Disabilities at the United Nations
on the situation of persons with disabilities in Ukraine
stemming from the Russian aggression
June 15, 2022, New York
To be delivered by Permanent Representative of Ukraine H.E. Sergiy Kyslytsya on behalf of Albania, Andorra, Austria, Australia, Belgium, Bulgaria, Canada, Croatia, Colombia, Cyprus, Czechia, Denmark, Estonia, Finland, France, Georgia, Germany, Greece, Guatemala, Hungary, Iceland, Ireland, Israel, Italy, Japan, Latvia, Liberia, Lithuania, Luxembourg, Malta, Marshall Islands, Moldova, Monaco, Montenegro, Netherlands, New Zealand, North Macedonia, Panama, Poland, Portugal, Republic of Korea, Romania, San Marino, Slovakia, Slovenia, Spain, Sweden, Switzerland, Türkiye, the UK, the USA, and the European Union
We come together at the 15th Session of the Conference of States Parties to the Convention on the Rights of Persons with Disabilities at the United Nations in New York to condemn the unjustified Russian Federation's aggression against Ukraine. These actions are in grave violation of international law, including the principles of the UN Charter and we urge the Russian Federation, in line with UNGA resolutions ES-11/1 of 2 March 2022 and ES-11/2 of 24 March 2022 to immediately cease its military aggression against Ukraine and withdraw its forces from Ukraine within its internationally recognized borders, extending to its territorial waters. We also condemn the involvement of Belarus in this aggression against Ukraine. We reaffirm our full support and solidarity with Ukraine and its people, in particular with all persons with disabilities.
Given that Russia's aggression against Ukraine results in a significant human rights and humanitarian crisis on the civilian population, with the disproportionate impact on persons with disabilities, including abandonment, violence, and lack of access to basic services,
We strongly condemn unlawful attacks by the Russian armed forces on civilian facilities, including schools, orphanages, and hospitals, and of civilian casualties, including persons with disabilities, elderly, women and children.
In this regard, we are deeply concerned at the alarming number of cases of injuries among civilians, including children, which cause disability.
We are deeply worried about the continuing deterioration of all aspects of the situation of all persons with disabilities, including those with physical, intellectual, psychosocial and sensory disabilities as well as women and girls, who are facing increased vulnerability, including of disproportionate risk of sexual and gender-based violence during the conflict.
We urge that the Russian Federation implement its obligations under the Convention on the Rights of Persons with Disabilities, especially Article 11, to fully abide by international humanitarian law, as well as to fully implement UNSC resolution 2475, the two key legal protections for persons with disabilities in armed conflict. We also call on all countries to work together to implement these important instruments.
We call for the protection of all affected civilians, safety and security of humanitarian workers, as well as safe, timely and unhindered humanitarian access to all those in need of assistance.
We commend the courage of the local civil society organizations in responding to the humanitarian needs despite the risks they are facing.
We are committed to work together with the United Nations Secretary-General and all relevant United Nations agencies or entities as well as ICRC, to respond to the conflict in Ukraine: the immediate humanitarian response and the longer-term recovery, reconstruction, peace, and security efforts.