Statement by the delegation of Ukraine at the UN Security Council High-Level Open Debate on the Issue of Linkages between Terrorism and Organized Crime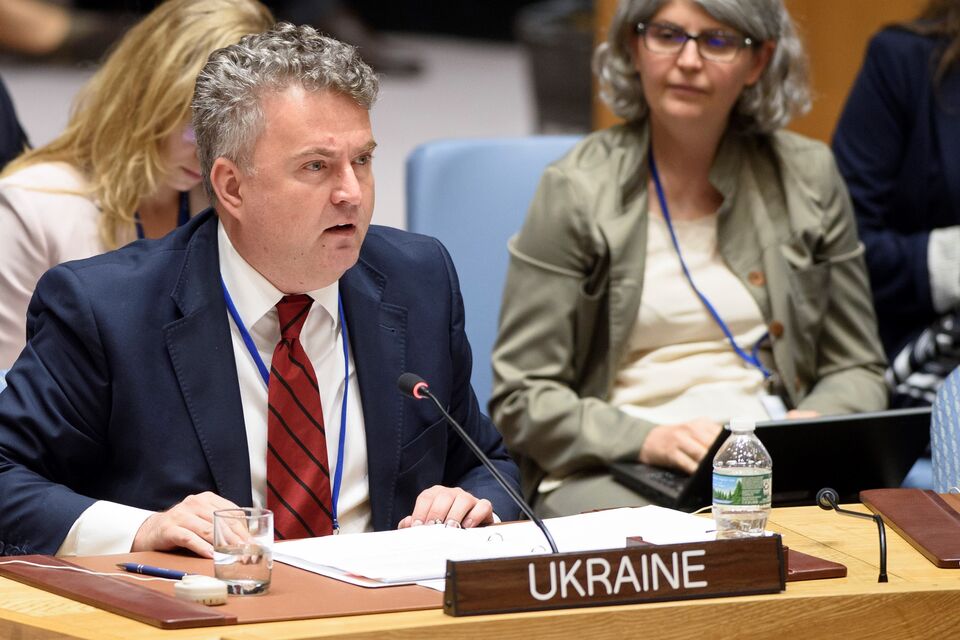 Mr. President,
The delegation of Ukraine thanks Indonesia for organizing open debate on the issue of the linkages between international terrorism and organized crime.
Terrorism, fed by the root causes of radicalization and violent extremism, is ever more interlinked with organized crime and the trafficking of people, drugs and arms as well as corruption. The common denominator in both terrorist and criminal groups is that their activities are not limited to a specific region or state; they rather have expansionary aspirations and a vast development agenda. Up until now, the international community has been exposed to the constantly evolving threats from the so called "crime-terror nexus" with more sophisticated methods and tactics, including in financing of transnational criminal acts. In this regard Ukraine takes note of the joint report submitted by the Secretary-General in accordance with resolution 2482 (2019) on linkages between terrorism and organized crime (S/2020/754). Ukraine is among those states which contributed to the mentioned report through sharing its own experience in countering this phenomenon at the domestic and international level.
Among the factors which allow terrorist and criminal groups to remain active and ambitious are the following: misuse of technological advances and communication innovations, loosely controlled borders, complex challenges with regard to returning and relocating foreign terrorist fighters from the conflict zones, lack of effective strategies in countering hostile propaganda and recruiting, insufficient prosecution and punishment measures in place for those who provide funding or other support to terrorist and criminal activities in any form and by any methods.
Therefore, it remains crucial to ensure effective implementation of all international instruments in combating terrorism and transnational organized crime in force, namely the United Nations Convention against Transnational Organized Crime (UNTOC), International Convention for the Suppression of the Financing of Terrorism, United Nations Convention against Corruption as well as the relevant Security Council resolutions, UN Global Counter-Terrorism Strategy and FATF standards and recommendations. Ukraine wishes to reaffirm the importance of the UNTOC and its Protocols in combating both existing and emerging forms of transnational organized crime, including armed robbery, kidnapping for ransom, money laundering, corruption. Moreover, as Ukraine pays utmost attention to the issue of combating human trafficking, since such crimes are often transnational, it can additionally address terrorist's role in human trafficking, migrant smuggling, and illicit transfers of firearms. The fight against these crimes requires joint efforts and coordination of respective activities between countries.
Therefore, Ukraine supports the establishing of an implementation review mechanism of the Convention and its Protocols. We believe that any mechanism that may be adopted should be transparent, efficient, non-intrusive, and impartial, aiming particularly to assist effective implementation of this instrument`s provisions.
Besides, there is an urgent need to find additional effective measures to counter the evolving trends in both terrorism and organized crime. In particular, having being unpunishably integrated into the policy of some states, terrorism and criminal components lead to brutal violations of international law, including to the war crimes and the crimes against humanity. Ukraine continues to experience those consequences while countering the Russian hybrid aggression for already more than 6 years.
Mr. President,
The reports of the OSCE Special Monitoring Mission and UN Human Rights Mission in Ukraine confirm the continuous inflow of ammunition, weaponry and fighters from the Russian Federation into the temporarily occupied territories of Ukraine. These military assets are delivered either openly, or under the guise of the so-called "humanitarian convoys". With this and other Russian support, more than 13 thousand people were killed in Donbas, while nearly 1,45 mln. people were forced to leave their homes[1].
In the temporarily occupied Crimea, the aggressor state is discrediting international efforts – including those of this Council – to counter terrorism by producing fake accusations of terrorist activities and by illegally sentencing innocent people. The Russian occupying authorities just choose to fabricate the so-called Hizb ut-Tahrir cases against Crimean activists and civic journalists, although no one is linked to any recognizable crime or even of planning to commit such a crime. Since 2014 Russia has being using its "terrorism" legislation to execute systematic pressure on the Crimean Tatars as well as continuous repressions on religious, ethnic and political grounds.
Considering that Islamic extremism has never been part of the history of the Crimean Peninsula before the current Russian occupation, the frequency with which the occupation authorities are using this accusation to justify their searches, detention and robust punitive actions strongly suggest that it is a pretext for discrimination, in a blatant violation of the Convention on Elimination on all Forms of Racial Discrimination.
Those and other facts of violations of international legal framework prove, time and again, that combating the activities of individual terrorists and terrorist groups will be insufficient if the problem of state-sponsored terrorism is not effectively and comprehensively addressed. Switching blame, manipulation and propaganda, interference into internal affairs of states, fueling international conflicts by supplying weapons and financing of terrorism, killing civilians, including medical personnel – that is the modern political course of the Russian Federation.
That is why the issue of bringing to account not only individuals or organizations but also those states responsible for organizing, financing or otherwise supporting terrorist and criminal activities should be duly dealt with. The sanctions imposed on the aggressor-state should be maintained and further strengthened. Therefore, the only option for sanctions to be lifted is thorough complete halting of continuous violations of international law, including armed aggression, occupation and human rights abuses. Transnational criminal activity, including terrorism, must be not only condemned but rather effectively countered and punished.
Thank you.
[1] https://mtot.gov.ua/ua/kilkist-zareestrovanih-vpo-stanom-na-13-kvitnja-2020-r.