Fortieth Session of the United Nations Committee on Information Side Event "Information Security: Propaganda and Fake News"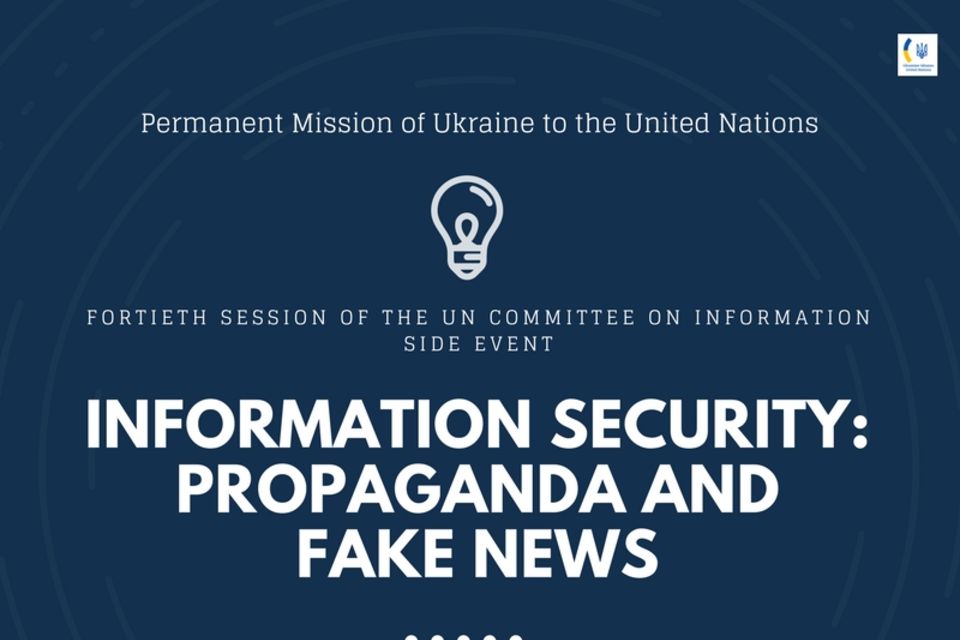 Fortieth Session of the United Nations Committee on Information Side Event
"Information Security: Propaganda and Fake News"
Concept Note
Date: May 9, 2018
Time: 1:15 pm — 2:30 pm
Venue: ECOSOC Chamber, UNHQ, New York
Welcoming Remarks, Moderator: Ms. Mariana Betsa, Spokeswoman for the Ministry of Foreign Affairs of Ukraine
Panelists:
· Mr. Yevhen Fedchenko, PhD, Director of the Mohyla School of Journalism, National University of Kyiv-Mohyla Academy (Kyiv, Ukraine), Co-founder and Chief Editor of the fact-checking website StopFake.org
· Ms. Mariia Kriuchok, Project Manager for VoxUkraine, an independent analytical platform for monitoring news
Background
The side event is the continuation of the discussion initiated by Ukraine at the UN in 2017 about hybrid forms of warfare.
Propaganda and fake news remain one of the core non-military instruments which different actors actively use to influence public opinion and to achieve political objectives. It is evident that hybrid practices, such as textual fakes, photo and video fakes, false claims, forged documents, hoax experts, fake news sources and witnesses constitute a direct threat to the democratic values and undermine international peace and security. Therefore, there is an urgent need for the international community to develop a comprehensive plan of action to rapidly react to this phenomenon.
For this reason, it is important to further advance discussion within the UN on possible responses to cases of propaganda and fake news.
The side event will provide first-hand and expert accounts of the impact of the changing character of disinformation efforts on the international arena. UN member states are encouraged to contribute to the discussion by considering different aspects of propaganda and fake news as well as identifying possible instruments to tackle these threats. We also propose to explore ways of promoting accountability for actions undermining global information security.