Statement by Minister of Foreign Affairs of Ukraine Dmytro Kuleba at the United Nations Security Council meeting on Russia's aggression against Ukraine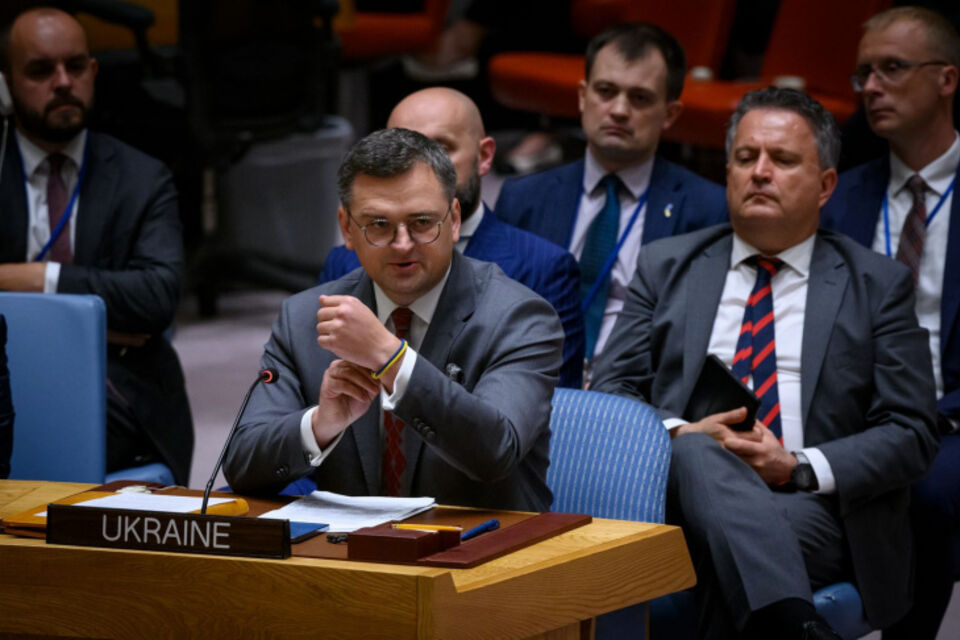 Statement by Minister of Foreign Affairs of Ukraine Dmytro Kuleba at the United Nations Security Council meeting on Russia's aggression against Ukraine
Madam President,
Distinguished members of the Security Council,
Secretary-General Guterres and Prosecutor Khan,
I thank the French Presidency for keeping the focus of the Security Council on the most pressing threat to international peace and security in this century, Russia's war of aggression against Ukraine.
Right as we speak bodies of innocent victims are still being exhumed from at least 445 graves in the recently liberated city of Izyum. Some are not entire bodies, but only parts of them. Like a few pairs of children's legs in one of the graves. The grief of their close ones is yet another drop in the ocean of suffering that Russia has inflicted upon the people of Ukraine since seven months and eight years of its barbaric aggression.
Many of you may have seen the image of dead hand of a 36 years old Ukrainian soldier Sergiy Sova with yellow-and-blue bracelets still on it. I do wear one too. Many of us do. And Russia should know one thing, it will never be able to kill all of us. And here is why. Because on February 24th, when Russia attacked Ukraine from all directions, within the first 24 hours tens of thousands of Ukrainians returned from abroad to defend their country. What happened within the first 24 hours after President Putin announced mobilization? The opposite. Thousands of Russians booked international flights to leave Russia. Many flights were sold out within hours.
Yesterday, Putin announced mobilization. But what he really announced before the whole world was his defeat. You can draft 300, 500 thousand people, but you will never win this war. Today, every Ukrainian is a weapon ready to defend Ukraine and the principles enshrined in the UN charter.
Russia will fail and will bear full responsibility for the crime of aggression and consequent war crimes, crimes against humanity, and genocide. Yesterday, President Zelensky made it clear in his address that Russian responsibility is a key element to international peace and security.
Ukrainian law enforcement together with partners in the International Criminal Court and countries who support both Ukraine and the ICC work collectively to collect evidence of Russian crimes and hold perpetrators to account. We trust in the international criminal court. Justice will be served. We owe it not only to thousands of victims, but to future generations in Ukraine and beyond. There will be no peace without justice.
I emphasize that none of the Russian crimes in Ukraine would have been possible without the crime of aggression against Ukraine committed by Russian leadership. It can not go unpunished. And the only feasible way to put President Putin and his entourage on trial is to establish a Special Tribunal for the Crime of Aggression Against Ukraine. I reiterate my call on all states to back this undertaking for the sake of the very basic principles of humanity and the UN Charter.
Excellencies,
Many of you may listen to me right now with one question in mind: is there a chance for peace? Will Ukraine negotiate with Russia in order to end this war?
I want to state it crystal clear: no other nation in the world craves for peace more than Ukraine. President Zelensky was very outspoken about it yesterday. We have never wanted anything but peace and stable development. We have never wanted this war and never chose it! We simply want to live a normal life. But it's not enough for Ukraine to want peace. Russia must prioritize diplomacy over war in order to give peace a chance. What we see instead is Russian leadership seeking a military solution only.
Distinguished colleagues,
This chamber has seen many heated debates since 1945, many crises. But the amount of lies coming from Russian diplomats? It is quite extraordinary.
Today, we are mostly focusing on crimes committed by Russian soldiers in Ukraine. But if anyone thinks they are the only ones ready to kill, toruture, rape, cut off genitals, they are wrong. Russian diplomats are directly complicit because their lies incite these crimes and cover them up.
Apparently the only thing in today's address by Russia in this forrent of lies is the inappropriate slang used when mentioning a President of a foreighn country, the President of Ukraine. I also noted today that Russian diplomats flee almost as exactly as Russian soldiers.
Before February 24th Russian diplomats here at the UN had repeatedly denied plans of a full-scale invasion of Ukraine. The Russian President himself lied into the face of European leaders saying he was not planning to attack - days before the invasion.
Russia is shameless. They sit at the chair they occupied in 1991 on dubious legal grounds. Armed with a veto right and the feeling of total impunity. Russians are confident that they can get away with anything and they are entitled to do anything they want. They think this seat allows them to violate borders in a nineteenth-century style imperialist conquest. They think it allows them to shell nuclear power plants and seize them. They think it allows them to unleash missile terror on civilians and critical infrastructure. They think it allows them to threaten the world with the use of nuclear weapons. They must be held accountable for all of this.
The issue of responsibility is central to the debate. We need to ensure that behavior like this is punishable. Otherwise every evil force in the world will be tempted to follow in Russia's footsteps. I don't need to remind anyone at this table how many forces on the planet would like to question the borders of their neighbors. If Russia can do this, why can't they?
Today, we are talking not only about Ukraine or Russia. The global security crisis we all face is so much larger. All members of the Council must realize that on February 24th Russia attacked not only Ukraine, it dealt a deadly blow to the very foundations of the UN Charter. No nation can feel safe until Russia is held to account for violating the common principles agreed by all after the Second World War.
Russia does not care for them. But there are 192 other UN member states. Nations of Asia, the Pacific, Africa, the Middle East, Latin America, and Europe are all interested in upholding the UN Charter. Today, Ukraine is fighting to defend these principles, especially the principle of territorial integrity.
Madam President,
Russia's war of aggression has plunged the world into a multifaceted crisis. The consequences of this crime are felt far beyond Ukraine.
Once Russian warships blocked Ukrainian sea ports it became clear that Ukrainian agricultural exports are vital to global food security. Russia has demonstrated that it is ready to put millions of people across Asia, Africa, and the Middle East at the risk of hunger - simply to achieve its imperialist goals.
I thank UN Secretary General Antonio Guterres and Türkiye for facilitating the Black Sea grain initiative that allowed Ukraine to resume maritime grain exports this summer.
Putin lied when he said that most of the grain has been sent to European countries. In fact, two thirds of the grain we shipped went to consumers in Africa, the Middle East, and Asia.
The resumption of Ukrainian exports has tamed food prices and allowed to ease the acute food insecurity, especially for those most vulnerable.
Today, the Black Sea grain initiative is under threat. Russian officials are questioning the effectiveness of the corridor and might prepare to block the extension of the initiative once the agreed 120 days are over in November. We must not allow Russia to resume its hunger games with the world. I urge all nations, especially those depending on Ukrainian food exports, to put maximum public and diplomatic pressure on Moscow now, demanding to keep the Black Sea grain corridor functioning in November and beyond. We need to protect the vital grain initiative together.
Ukraine remains a global food security guarantor. Despite our own dire situation, we decided to provide humanitarian aid to Ethiopia and Somalia, sending them an additional amount of our grains. Ukraine is interested in increasing maritime export volumes, both under the UN Food Program and on market conditions.
While hitting peaceful Ukrainian cities with missiles, Russia uses food and energy as weapons against the rest of the world. Putin sends tanks into Ukraine to kill Ukrainians, while stealing the well-being and stability from every European household with energy blackmail and playing hunger games with Asian, African, and Middle Eastern families by threatening the functioning of the grain corridor.
We are in the same boat! All of us, Europeans, Asians, Africans, Arab nations, Latin American states, we are in the same boat. And we must confront these threats together. There is no place for neutrality. I said back in February here at the United Nations that no nation will be able to sit out this crisis created by Russia. It still stands. The best reaction to this crisis is to stand with Ukraine to protect the UN Charter.
Russia likes to talk about the developed world and the developing world, it tries to drive a wedge between ones and the others. We in Ukraine don't differentiate. All people deserve a normal life, safety, stability and confidence. But we must stay united to stop Russia's blackmail and the war on humanity it launched.
Dear colleagues,
The most important pillar of international peace and security is the territorial integrity of states. No country is allowed to change internationally recognized borders by force. Russia has badly damaged this principle and now the threat of war is hanging over everyone's head. To restore international peace and security, we need urgent and decisive actions.
Yesterday, President Zelensky proposed a peace formula which includes not only accountability but a mechanism of security guarantees based on the article 51 of the UN Charter. Ukraine has developed the Kyiv Security Compact proposing a modern multi-layered mechanism of guarantees to ensure Ukraine's security until the moment we become part of NATO.
This document is much broader than a tool to guarantee the security of Ukraine. We see it as a universal mechanism that can be applied to other countries and contexts in order to strengthen regional and global security architecture. Ukraine keeps working with partners to realize the vision of the Kyiv Security Compact. This is our added value to international peace and security for all UN member states.
Thank you all for your attention!