Виступ делегації України на засіданні РБ ООН з пункту порядку денного "Забезпечення миру та безпеки України"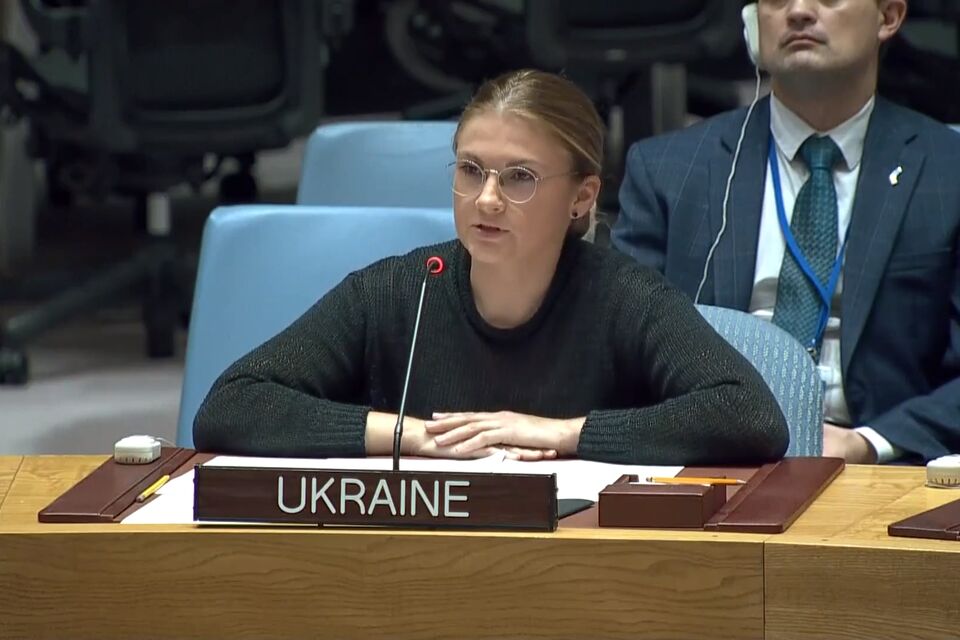 Mr. President,
Distinguished members of the Security Council,
I also recognize here the representative of terrorist russia in the permanent seat of the Soviet Union.
I would like to thank Under-Secretary-General Rosemary DiCarlo, Assistant Secretary-General Ilze Brands Kehris and human rights expert Oleksandra Drik for their substantive and truthful presentations. The horrific facts on human sufferings from the Russian occupiers brought to our attention has again proved that the only option to end this war is to hold the aggressor accountable for its criminal actions.
Criminal, indeed, due to both the huge record of crimes in the occupied territories of Ukraine and the criminal background of many russian soldiers, recruited recently for the war against Ukraine.
The story of russian murderer Neparatov is one of the many, highlighting the level of degradation of russian army. Back in 2013 this person was a leader of a gang, sentenced to 25 years in prison for killing five people and armed assaults. The murderer joined the Russian occupation forces in Donbas, was killed in a short while and then – awarded with high military decoration.
No moral constraints, readiness to kill and to terrorize civilian population – these are the personnel welcomed now by the russian military recruiters. This is the face of this army.
Ambitions that have already failed. And today, almost 200 days since the invasion started, we are more than confident in our victory. Despite the fact that the enemy is still on our land, despite that we still have a long way to go to liberate the entire territory. No doubt that it will happen.
In fact, it is happening already now. Over the recent days the Ukrainian forces liberated territories and settlements in Kherson, Kharkiv and Donetsk regions.
The russian occupation forces consider terrorizing local population to be an important part of their attempts to prepare the ground for fake referendums. But broad active and passive resistance in the occupied territories, disdain by the local population towards occupiers, small number of collaborators, and first and foremost, intensive actions by the Ukrainian Armed Forces, have already forced russia to abandon its plans to hold such "referendums" in September as it earlier planned. We have no doubt that they will fail with any new deadline as well.
Distinguished members of the Security Council,
As a part of its aggression russia continues forcible deportation of Ukrainian citizens to its territory. Our people are being transferred to isolated and depressed regions of Siberia and the Far East.
The scale of this crime is outrageous – according to available data, nearly 2.5 million Ukrainians, including about 38 thousand children, have been transferred from southern and eastern regions of Ukraine.
Blocking evacuation to the mainland Ukraine, russia simply leaves for the population of the occupied areas no other choice but to go to the russian territory or the occupied Crimea.
Moreover, as a part of the forced evacuation and deportation, russia detain refugees in so-called "filtration camps". These extralegal facilities have been widely used by russia to terrorize the civilian population under the pretext of identifying "dangerous persons". In reality, those whom the occupiers suspect of "disloyalty" because of their political views or potential affiliation with the Ukrainian army, government, media and civil society groups, disappear after so-called "filtration" in the "gray" zone of occupied Donetsk and Luhansk.
Families are separated, children are grabbed away from parents.
According to the OHCHR report, such persons were later held in tragically known Olenivka, where 53 Ukrainian prisoners of war were brutally killed by russia, and in Donetsk. Many detainees were reportedly tortured and some of them - summarily executed.
According to the Ukraine's Prosecutor-General, the so-called "filtration camps" have been also set up in the cities of Makiivka, Snizhne, Torez, Shakhtarsk, Khartsysk, Novoazovsk, Berdyansk, the villages of Nikolske, Bezimenne, Yuryivka.
The Ministry of Reintegration of the Temporarily Occupied Territories of Ukraine states that only about 16 thousand deported citizens were able to return to Ukraine. According to their accounts, most of those transferred to russia face lack of means and absence of travel documents. This makes dozens of thousand people wishing to return back home, literally trapped in russia.
Mr. President,
It is a back-to-school time in most of our states. Regrettably, the school year in Ukraine has started against the backdrop of rocket and artillery shellings by russia with education facilities being a regular target.
Since the beginning of invasion, the russian forces have damaged 2177 educational institutions leaving 284 totally destroyed. Due to the security threats, only 56% educational institutions are prepared to provide in-person learning for their students.
Primary concern is that russia attempts to expand its practices of militarization and russification of education to the territories, it has occupied since February. It focuses on erasing the Ukrainian ethnic identity. According to available data, about 200 thousand children of school age remain in the occupied territories.
Principals and school staff in the occupied territories are subject to pressure and intimidation, aimed at enforcing them to follow russian school programmes.
Needless to say, the curriculum that russia tries to impose in the occupied territories of Ukraine does not provide the studying of the Ukrainian language and literature as well as the history of Ukraine. As most of Ukrainian teachers in the occupied territories refuse to collaborate, the russian occupiers try to substitute the local staff with that coming from russia.
Distinguished colleagues,
Children from the occupied territories are transferred to russia and illegally given up for adoption. The forcible transfer of children of one group to another "with intent to destroy, in whole or in part, a national, ethnical, racial or religious group" is a violation of the Convention on the Prevention and Punishment of the Crime of Genocide.
On August 23, the Krasnodar Department of Family and Childhood in the russian federation publicly reported that over 1,000 Ukrainian children from Mariupol were illegally transferred to outsiders in Tyumen, Irkutsk, Kemerovo, and Altai regions; more than 300 children are currently being held in specialized institutions in Krasnodar region.
We reiterate that all Ukrainian children, who were illegally displaced to the territory of russia, must be returned to their parents or legal guardians. Until this happens, this crime needs most powerful response by the international community.
Mr. President,
Facing the existential threat to the state and the people, Ukraine continues contributing to averting the global food crisis and fulfilling in good faith its obligations for the grain export initiative.
As of now, more than 90 ships have already been sent from Ukrainian ports. And in general, more than 2 million tons of our food have already been exported by sea from three Ukrainian ports.
But as long as russia is able to continue its aggression against Ukraine on land and sea the global security threats and food crisis would remain fragile.
Distinguished colleagues,
Such modern evil has to be disarmed fully in order to prevent the repetition of violence and bloodshed. This is key lesson drawn from the Second World war that started 83 years ago, on 1 September 1939.
People believed that it would be possible to avoid the repetition of those terrible crimes and such a cruel war. But the similar morning happened again for millions of Ukrainian on 24 February 2022. Once again, aggressor tries to seize territories in Europe through mass murder and terror, by exploiting the ideology of hatred.
But there is something that did not happen again. There were no pacts with aggressor. From the very beginning of the war, we have received real help from true friends all around the world. russia's capacities to wage a war has been limited by sanction packages and we urge the international community to further expand this practice, that literally saves the lives of Ukrainian people.
As President Zelenskyy said on the occasion of the anniversary of the Second World war: "we will do everything to ensure that Ukrainians and other nations throughout the globe live freely... We will do everything to ensure that the morning of September 1, the morning of June 22 and the morning of February 24 do not repeat. Never again. We will do everything to make hatred finally lose".
I thank you.