Виступ делегації України на засіданні ГА ООН щодо зміцнення координації в галузі надання гуманітарної допомоги та допомоги у разі стихійного лиха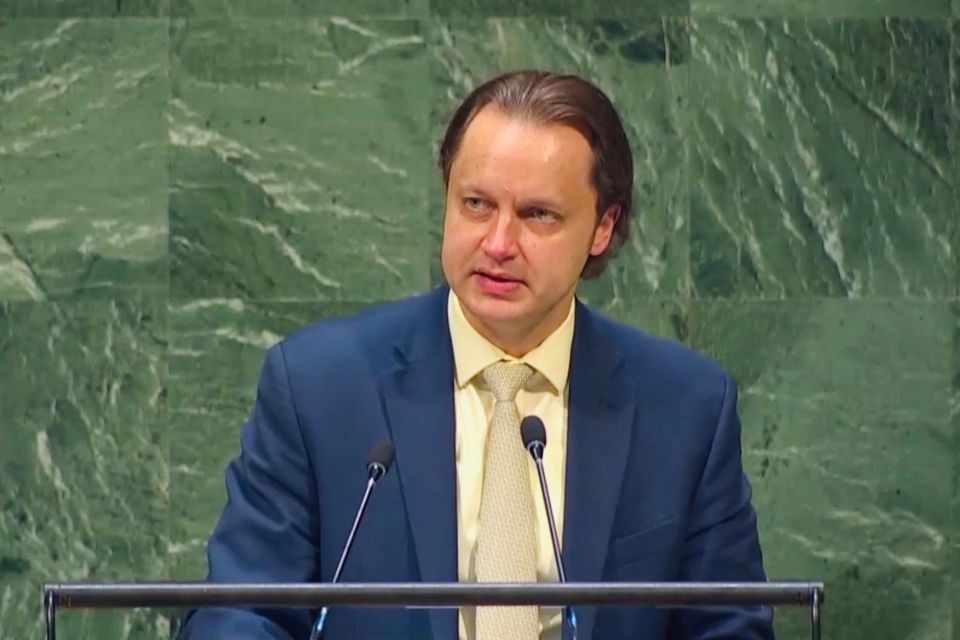 Mr. President,
The Delegation of Ukraine aligns itself with the statement delivered by the Delegation of the European Union and would like to make a few points in its national capacity.
Every country can face risk of humanitarian emergency which usually involves death, displacement, and destruction on a large scale. According to the UN Office for the Coordination of Humanitarian Affairs, in 2019 nearly 132 million people in 42 countries around the world will need humanitarian assistance, including protection. That is why strengthening international cooperation in solving humanitarian problems should be one of the most important and core priorities of the United Nations.
By responding to humanitarian disasters quickly and effectively, the UN agencies help to transform affected countries by forging a path toward recovery, growth, and stability.
At the same time, unfortunately, conflict will remain the main driver of humanitarian needs in 2019. A lot of humanitarian crises have become protracted because of limited progress in addressing their root causes. The majority of humanitarian needs occur in these crises. Therefore, political and peacekeeping solutions of protracted conflicts must top the UN agenda.
Many modern conflicts, including ongoing foreign aggression against my own country, are often fueled by other states pursuing their political interests. They aren`t concerned about the humanitarian situation in conflict-affected regions, and their incentive to reach a peace deal is ever lower.
Mr. President,
Ukraine co-sponsored all humanitarian resolution adopted today. My country places special emphasis on this topic. Almost five years of armed conflict caused by the ongoing Russian aggression have resulted in a protracted and complex humanitarian crisis in eastern Ukraine. According to the United Nations, around 3.5 million vulnerable Ukrainians affected by Russian intervention are estimated to be in urgent need of humanitarian and protection assistance during next year. More than 1.5 million Ukrainians are registered as internally displaced persons, amounting to 4 percent of Ukraine`s overall population.
On too many occasions the UN has noted a deteriorating humanitarian situation in this conflict zone. Civilians continue to face serious risks to their safety, wellbeing and basic rights due to the active and ongoing hostilities, as well as the saturation of landmines and other explosive ordinances. This area, according to the UN, has already become the most mine-contaminated stretcheof land in the world.
There is also a whole range of threats which can lead to further deterioration of the protracted humanitarian crisis in this region, in particular ones related to critical infrastructure. Continuation of the Russian aggression can also lead to an ecological and humanitarian catastrophe. That is why cessation of hostilities remains essential in enabling effective humanitarian response, the protection of civilians and humanitarian personnel.
Mr. President,
The Government of Ukraine remains persistent in its efforts to alleviate the suffering of Ukrainian citizens affected by the Russian aggression, particularly of the internally displaced persons. Currently, it focuses on fixing the major systemic issues in their social integration and adaptation, as well as studies the best practices of integration of IDPs into the host communities.
In this context the Cabinet of Ministers of Ukraine approved the State Program on Recovery and Peacebuilding in the Eastern Regions of Ukraine. The main goal of this Program is to promote the social and economic development of the concerned communities, as well as strengthen their capacities and social stability.
We have developed a modern, innovative online platform of economic and social recovery for operational monitoring of projects aimed at restoration of infrastructure and the development and support of communities and their projects in the government-controlled areas. It will allow the authorities to respond promptly to the challenges and problems of the people in the east of our country and to facilitate the assistance of international humanitarian organizations.
The Government of Ukraine coordinates demining programs and implements projects on humanitarian demining which inform citizens who live in the area near contact line on demining activities, rules of conduct in situations involving explosive objects and provide other assistance.
Mr. President,
Ukraine is grateful for the assistance provided by the UN system to millions of people in need: High Commissioner for Refugees, World Food Programme, UNICEF, OCHA, other agencies and bilateral partners, especially the European Union, the United States, Canada, Sweden, Norway, Switzerland, Japan, Estonia and other counties, as well as International Committee of the Red Cross and other international non-governmental organizations which continue to support Ukraine.
In particular, we are thankful to OCHA for advancing its Humanitarian Response Plans, which for the first time will offer a two-year planning horizon. We hope that this approach will meet the urgent humanitarian needs of the most vulnerable as well as make it possible to reduce them by focusing on building resilience.
To complement these efforts, President of Ukraine Petro Poroshenko put forward an initiative to mobilize international humanitarian assistance through establishing patronage of Europeancounties over concrete conflict-affected cities and villages of Donbas with the aim of their reconstruction and rehabilitation.
We call on our partners to support this initiative.
In addition, due to Russia's recent act of aggression in the Sea of Azov, Ukraine had to intensify efforts aimed at mitigating its negative impact for social and economic development of the Ukrainian Azov Sea region. We would highly appreciate the international assistance in this area as well, including through active engagement in concrete projects which we already shared with our partners.
Mr. President,
In conclusion, I want to emphasize yet again that any humanitarian aid cannot replace long-term political and development solutions, which are crucial for people in crises.
Thank you.