Виступ Міністра закордонних справ України Павла Клімкіна на міністерському засіданні РБ ООН щодо Північної Кореї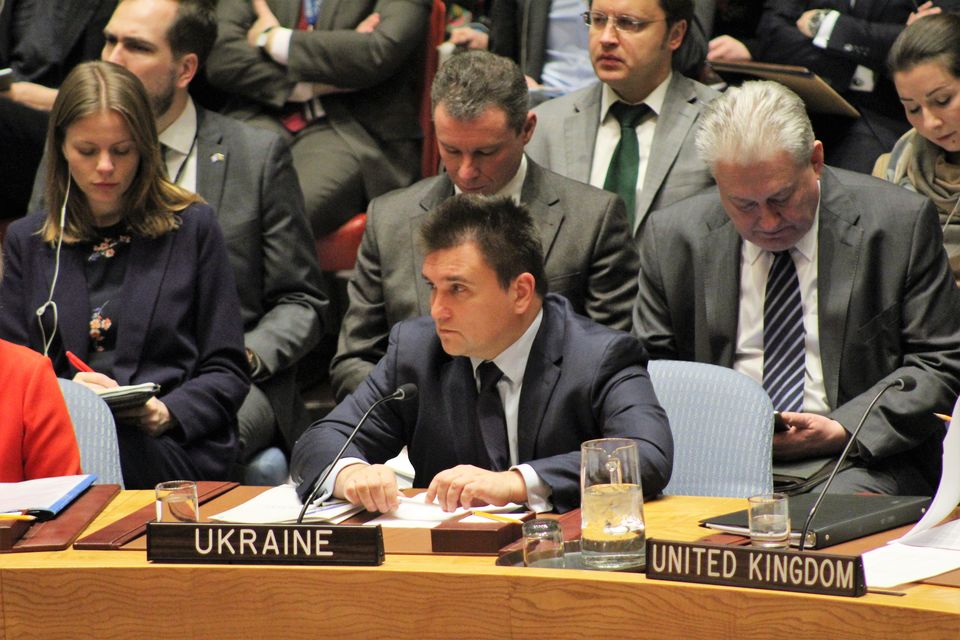 As prepared. Check against delivery.
Mr. President,
I thank the Japanese Presidency and you personally for convening today's briefing on the issue of non-proliferation of WMD. I also thank the Secretary-General for his useful update.
The ongoing development of nuclear and missile program of North Korea continues to undermine the global disarmament and non-proliferation regime. Recent developments proved that Pyongyang is arrogantly defiant in ignoring international law and repeated calls to halt its illegal activity.
Unprecedented provocative actions by North Korea in the last two years were met by the most robust sanctions regime in history. Resolution 2375, adopted unanimously in response to the sixth and most powerful nuclear test conducted by DPRK, sent very clear signals to Pyongyang. In particular, it urged Pyongyang not to conduct any further missile launches or nuclear tests and refrain from any other provocations. At the same time, the Council indicated the way out of the crisis, including by reaffirming its commitment to a peaceful, diplomatic and political solution to the situation, confirming DPRK's sovereignty, and stressing the need for further work to reduce tensions to advance the prospects for a comprehensive settlement.
What was the response to this resolution? Another missile test.
Despite all political and diplomatic efforts to curb Pyongyang's aggressive ambitions, North Korea moved closer to having a fully functional nuclear arsenal. The increasing militarization has already severely affected the livelihoods of its people, who continue to live under a constant duress experiencing chronic shortages of even basic goods and services.
Besides diverting resources from acute human needs to finance its missile and nuclear program, DPRK continues to effectively evade sanctions.
Recent developments, in particular the ICBM launch last month, suggest that Pyongyang is not interested in resumption of negotiations. We are of the view that is shared by many around this table that only a full implementation of the Security Council's resolutions can bring us closer to changing this trend. Before it happens the Council must stand ready to introduce additional measures in case of new provocations.
Mr. President,
The longstanding crisis on the Korean peninsula has global implications and thus raises a question as to what should be done by international community to prevent emergence of a nuclear threat in the future in other parts of the globe as well.
In my view, the case of North Korea contains two important lessons for the international community. First, it demonstrates what may happen when weapons of mass destruction are obtained by irresponsible actors. Today, Pyongyang blackmails the entire region, threatening to use its nuclear and missile capabilities without any thought of possible consequences and repercussions.
Thus, we continue to witness emerging and further evolving challenges to the non-proliferation regime. Unfortunately, it is becoming harder for this Council to respond in unity. More often we witness the policy of double standards or unwillingness of some countries to recognize that the North Korean regime represents a real threat. Those who are looking for excuses for Pyongyang, should realize that for people in Japan and the Republic of Korea the North Korean missile alerts have become a fact of life. Just imagine how it feels to be jolted awake by the wail of sirens piercing the early-morning calm.
This brings me to the second lesson: appeasement of aggressive ambitions never works. Furthermore, perpetrators are only encouraged by concessions and inaction by the international community.
We already witnessed this in 1930s and see this today –in Europe and elsewhere.
Therefore, the international community should demonstrate a clear and uncompromised stance in defending international law, wherever or by whomever it is breached. This stance should not be limited to declarations on ultimate necessity to defend human rights, peace and security. We need actions, prompt and adequate responses.
Mr. President,
In recent decades we have witnessed the emergence of a number of volatile hotspots in different parts of the world. We have also seen a nuclear weapon state successfully testing a technology of creating longstanding destabilization and carrying out aggression against its neighbors – sovereign states.
Unfortunately, my country has been affected too.
Earlier this month we marked the 23rd anniversary of the signing of the Budapest Memorandum on Security Assurances in connection with Ukraine's accession to the NPT.
In return to voluntary renunciation by Ukraine of its nuclear arsenal, the three nuclear states committed "to respect the independence and sovereignty and the existing borders of Ukraine". The signatories of the Memorandum further obliged "to refrain from the threat or use of force against the territorial integrity or political independence of Ukraine, and that none of their weapons will ever be used against Ukraine".
Let me remind this Council that the provision of security guarantees to Ukraine by nuclear states was a precondition for my country's accession to the NPT.
Let me also stress that this Memorandum is registered with the UN Secretariat in accordance with Article 102 of the Charter and certified by the Secretary-General as an international agreement.
However, the obligations, set forth in this document, were insidiously violated by Russia, one of the signatories and the recipient of the nuclear weapons based in Ukraine until 1994.
As a result, my country was "rewarded" with a violation of its borders in a blatant show of disregard for norms and principles of international law, the Charter of the United Nations, the Helsinki Final Act and a number of agreements, including the Budapest Memorandum itself. What kind of message had these actions sent to other non-nuclear states? To us, the message is pretty clear: Russian obligations mean nothing. They worth less than the cost of ink used for signing it.
The illegal occupation of Crimea and the ongoing Russian aggression in Donbass region of Ukraine have left the low enriched uranium research reactor in Sevastopol, two nuclear repositories and more than 1200 radionuclide sources without due control of the Ukrainian national regulator. I wish to remind that the legal framework for IAEA safeguards application in Ukraine, including in the Autonomous Republic of Crimea and the city of Sevastopol, is based on Ukraine's Comprehensive Safeguards Agreement and Additional Protocol thereto.
When we speak about the importance of preserving and strengthening the nuclear non-proliferation regime, we should also keep in mind that the continuing occupation of the territory of Ukraine by a nuclear weapon state has resulted in de-facto expansion of the geographical area of nuclear weapons deployment.
Mr. President,
The Russian military aggression against Ukraine as well as systematic provocations by North Korea have provoked dangerous misbalance in the existing international security system, undermined the effectiveness and reliability of WMD non-proliferation regimes.
In order to prevent the world from sliding into the state of lawlessness, we must stand united to ensure respect for international law. We must stand united to ensure responsibility for its violation – no matter whether it was violated by a recognized nuclear weapon state or those, desperately wishing to gain such a status.
I thank you.