Виступ делегації України на засіданні Третього комітету ГА ООН щодо соціального розвитку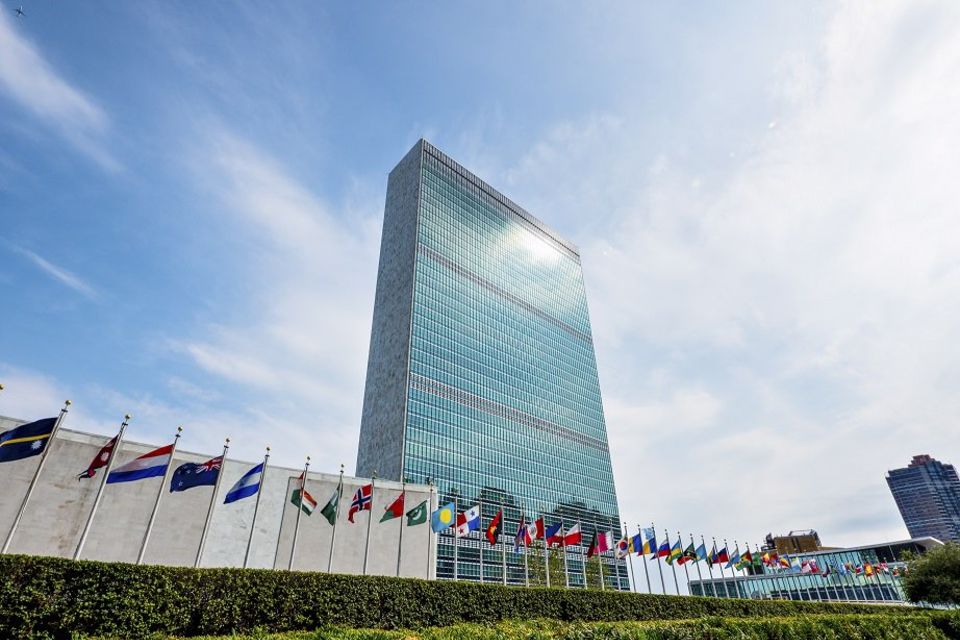 Mr. Chair,
Ukraine aligns itself with the statement delivered by the European Union, and I would like to make a number of comments in my national capacity.
Since this is the first time the Ukrainian delegation takes the floor in this year's Third Committee, I would like to congratulate you on your election as the Chair of the Third Committee and assure you of our full support.
Mr. Chair,
With a new global Agenda 2030 adopted two years ago by the 193 UN Member States, we acknowledged an ambitious plan of action. Sustainable Development Goals are built upon commitments in the areas of poverty, nutrition, health, education, water, sanitation and gender equality.
Furthermore, the Agenda underlines the importance of social development as one of the three dimensions of sustainable development.
Despite the ongoing challenges Ukraine facing today, my country is fully committed to the implementation of the SDGs.
Ensuring sustainable energy supply, food security, promoting innovation and infrastructure development as well as effective public health system, affordable education and decent work — all this goals are among priorities within the 2030 UN Development Agenda in Ukraine.
These days Ukraine is rebuilding its economy and infrastructure, turning it into an integral part of the European continental economy. The Deep and Comprehensive Free Trade Area with the European Union has allowed us to restructure our foreign trade and increase the share of the European market up to 40 per cent.
This year the Association Agreement with the EU and visa-free regimes with Schengen zone entered into force. Over the first 90 days of the visa free regime, more than a quarter of a million Ukrainian citizens have taken advantage of the opportunity to travel freely to the countries of the Schengen Zone, experiencing all the benefits of free movement.
The Ukrainian society realized that integration with the EU is a powerful factor for preserving and strengthening sovereignty, security and wellbeing.
Despite the ongoing Russian aggression, Ukraine has not only proved its ability to implement reforms over the three years, but demonstrated first results.
Our economy is growing, the banking system has been cleaned, budget spending has been cut, and successful cooperation with the IMF is under way.
Furthermore, the leading credit agencies have upgraded Ukraine's ratings.
After years of broken promises and false starts, Ukraine is finally making progress against corruption. As an example — independent anti-corruption institutions, electronic declarations, electronic government procurements, energy reforms, banking sectors reforms and many more.
During last three years, we have done more than perceived, but less then we aspire for. So, what is ahead of us?
The Government of Ukraine has started an ambitious four-year healthcare reform that aims to extend coverage and improve the quality of care, with every citizen guaranteed a basic healthcare package.
It's worth to mention that we are working on our pension reform, which will allow to increase pensions.
Ukraine also continues promoting gender equality in all of its policies and activities. All women should be able to exercise their rights to participate in all spheres of social life and decision-making.
As an example this year the Cabinet of Ministers of Ukraine has adopted a Decree assigning Ms. Ivanna Klympush-Tsintsadze, the Vice Prime Minister on EU and Euro-Atlantic Integration, with the functions and responsibilities for coordination of the state gender equality policy.
This historic initiative will enhance comprehensive advancement of gender equality and women's rights in the country by raising gender priorities to a higher political level.
Mr. Chair,
Due to the temporarily occupation of Ukrainian Crimea by the Russian Federation and its aggression in the Donbas region, thousands of people have been killed and wounded. Critical and civilian infrastructure has been ruined, leaving millions of Ukrainian citizens without a place to live.
As of today there are more than 1,7 million internally displaced persons registered in Ukraine, 232 thousands of whom are children, who were forced to leave their homes.
The Government of Ukraine is undertaking a number of targeted steps in order to address the challenges that the ongoing foreign aggression puts on IDPs.
The Law of Ukraine on IDPs adopted on October 2014 was welcomed by the international community, including the Office of the United Nations High Commissioner for Refugees. This Law is aimed at ensuring the rights and freedoms of IDPs and at addressing key issues in this area, inter alia through facilitating humanitarian assistance. On March 2017, Ukraine's legislation on IDPs was amended in order to strengthen their social protection.
Putting an end to the military aggression and establishing peace and restoring Ukraine's full sovereignty over Donbas region and Crimea is extremely important in the context of returning to normalcy in lives of millions of people in Ukraine, restoring economic and social infrastructure in the affected regions.
To conclude, Mr. Chair, I would like to reiterate that we would succeed in promoting social development only through peace, upholding human rights and safeguarding the dignity of the most vulnerable.
Thank you.