Statement by H.E. Mr. Dmytro Kuleba, Minister for Foreign Affairs of Ukraine, at the Virtual Ministerial Videoconference "Close the Digital Divides: the Digital Response to COVID-19"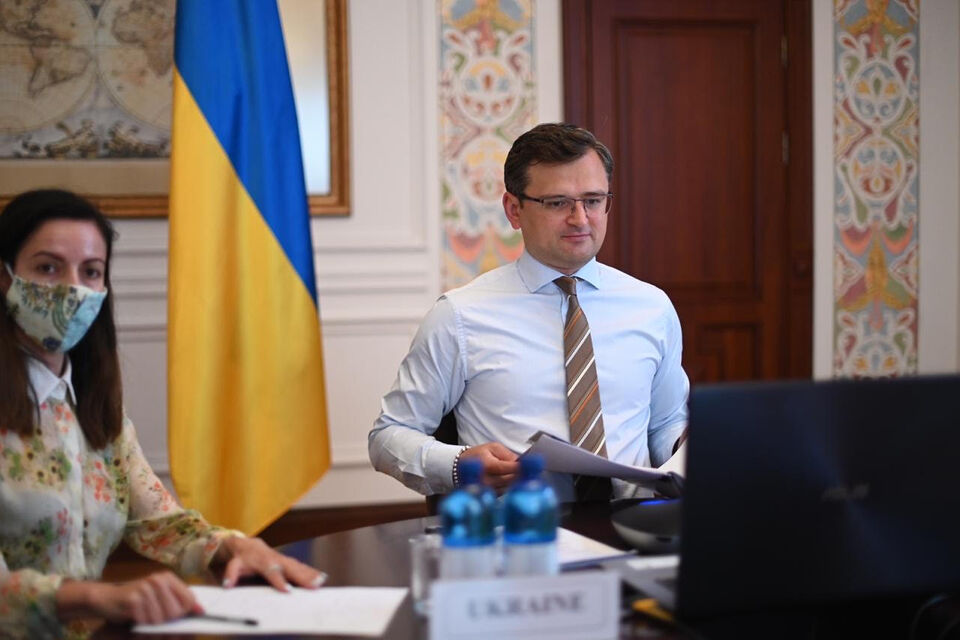 As prepared. Check against delivery
Good afternoon, ladies and gentlemen!
Distinguished colleagues!
I would like to thank Estonia and Singapore for convening this important and timely discussion, as well as for launching the Global Declaration on the Digital Response to COVID-19, which Ukraine fully supports.
The outbreak of Covid-19 has become a tremendous threat to all countries of the world. We need to cooperate and act in radical ways, in particular concerning digital transformations and public e-services.
In Ukraine a proper basis for public e-service development has been created by allowing secure data exchange between government databases. Ukraine has implemented the interoperability platform of Estonian origin, X-road, in collaboration with the e-Governance Academy, the Estonian IT company Cybernetica and local partners. We know that the World Health Organization highly evaluates effectiveness of Estonian data exchange layer X-Road and has an intention to use it as a part of the future global data system governance.
In order to establish an effective mechanism to react to the COVID-19 pandemic the Ministry of Digital Transformation of Ukraine created a system of push-up messages, which allowed receiving current information on COVID-19 and recommendations for the citizens. Moreover, in view of the pandemic we have launched a project "Дій вдома" (Stay at home) to monitor how the citizens returning from abroad abide by the rule of self-isolation.
In April 2020, the Ministry of Digital Transformation of Ukraine held a national competition of IT projects and ideas HackCorona in Ukraine, aimed at creation of socially beneficial projects, responding to the challenge of the pandemic. Among finalists are: Liki24.com – a solution that helps people to buy medicines at optimal prices; COVID-19 Access Control - a system of access control to public places and transport; Raccoon.Recovery Light -an application for physical rehabilitation.
Ministry of Foreign Affairs' digital response to COVID-19 is comprehensive and human-centred.
Ministry has recently announced an interactive online map which performs a function of travel advisory for Ukrainian citizens who plan to travel abroad during COVID times. The map shows travel restrictions and entry requirements for every country and is regularly updated by Ukrainian consuls all over the world. Map has been developed with the support of the British Embassy in Kyiv and UNDP Ukraine.
Another direction we are currently working with is digitalization of consular services for Ukrainian citizens under the program E-consul. Soon Ukrainian citizens will be able to receive a number of services online without a need to physically go to the consulates and consular departments, which is highly important in COVID-19.
Ministry is also looking into the ways to optimise with the help of IT solutions work with citizen's requests via call-centre, mail and social media. This will help us become more service-oriented and respond to citizens' requests timely and efficiently.
Another important direction is countering disinformation and fake news, which in COVID times pose even bigger threat than before. We plan to develop digital platform for all involved stakeholders and partners that will help intensify our efforts in effective countering disinformation.
With UNDP's support, we have hired IT consultants who will suggest relevant IT-solutions to optimise Ministry's capacities to better respond to the crisis, caused by pandemic.
Our SMM Unit has also created special social media accounts dedicated to COVID19 situation in Ukraine and abroad. It was very useful tool during so-called "evacuation" period.
In the face of the coronavirus pandemic, the Ministry of Foreign Affairs of Ukraine has begun coordinating humanitarian aid. The MFA negotiates with international partners and Ukrainian business, and engages in coordinating the work of Ukrainian agencies on this issue. Ukrainian diplomats are looking for specialized medical equipment, medicines, personal protective equipment, COVID-19 test kits and other means that Ukraine needs to counteract the coronavirus and can be delivered as humanitarian aid or purchased for our country's needs.
The Government of Ukraine pays special attention to the economic sustainability, protecting jobs and attracting investments to the country. For this reason, a special stabilization fund to combat coronavirus and its effects was created. Payments to medical and other workers involved in the fight against COVID-19 were increased, social assistance to pensioners is provided, and support is given to people who have lost their jobs through quarantine restrictions, and so on.
The Government of Ukraine has launched the new cooperation program with the IMF to ensure macroeconomic stability, and to overcome the crisis consequences of the coronavirus pandemic.
We look forward to working together with the European partners on other possible support mechanisms for Ukraine and our health care system during this difficult period. Russian aggression and the epidemic can at the same time be a difficult test for our country. The situation is worsened with the floods in Western Ukraine.
I would like to emphasize the importance of consolidating international efforts to tackle the COVID-19 coronavirus pandemic. This crisis threatens the world with significant social, economic, and humanitarian consequences in the coming years, especially in countries already burdened by conflicts.
It is commendable that with the introduction of the interim silence procedure the General Assembly has found the way to adjust to the unprecedented circumstances and adopted with the unanimous support of its members a number of urgent decisions, including the Resolution 74/270 "Global solidarity to fight the coronavirus disease 2019 (COVID-19)" and the Resolution 74/274 "International cooperation to ensure global access to medicines, vaccines and medical equipment to face COVID-19", which laid the ground for a political response of the United Nations to the pandemic.
We support the UN's leadership in mobilizing international assistance to the most affected countries and coordinating the activities of international agencies to counter the pandemic consequences.
The impact of the COVID-19 on the digitalization of our lives has re-emphasised the necessity to build a safer cyberspace. Today, states all across the globe are reporting an increase of identity theft and online fraud, as well as cyber threats against critical infrastructure, including the healthcare sector, or intensified disinformation.
My country, as well as a number of countries in Europe and beyond have faced hostile cyber behaviour of the Russian Federation. Ukraine being a testing ground for the use of hybrid aggression tools has a first-hand view of the value of safe digital space. Since 2014, we have been encountering cyber-attacks against a wide range of network infrastructure, including individ­ual websites and whole Internet Service Providers. On the other hand, there is an ongoing, content-driven information war within the online media space designed to influence and deceive the public.
Malicious actors in digital space are adapting to the new circumstances of the pandemic. They address to shameless targeting those who are working to beat the pandemic and fighting for human lives. The answer is clear – we should keep to the existing rules of behaviour in cyberspace where international law fully applies and hold those who break the rules accountable. We need to seize this moment to speak up. That is one more reason why broad international consensus and support of this Declaration is vital now.
Thank you.