Opening Remarks by Permanent Representative of Ukraine to the UN, Ambassador Volodymyr Yelchenko at the UNSC Arria-formula meeting: Security Implications of Climate Change: Sea-level Rise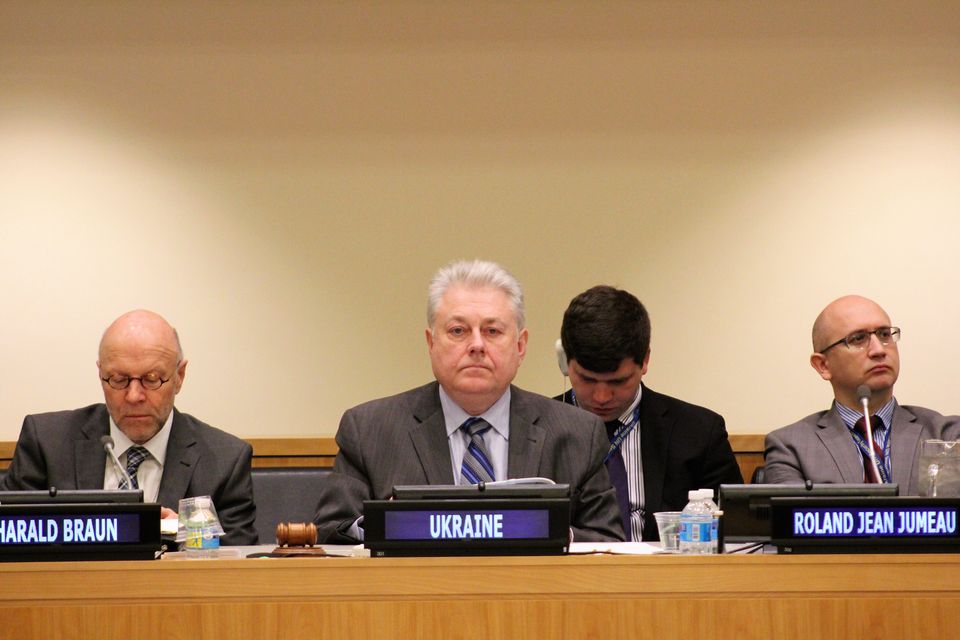 Excellencies,
Distinguished Delegates
Ladies and Gentlemen,
I have the honour to welcome all of you here at the Open Arria formula meeting on "Security Implications of Climate Change: Sea-level Rise".
Also, I would like to thank the Permanent Mission of Germany to the UN for their cooperation in preparing this meeting.
In recent years the issue of climate change has occupied a central stage in the international discourse as one of key challenges for the international community.
All regions of the world, regardless of their geographical location, will be affected by severe consequences of climate change. Particularly, small island developing states will be affected by rising sea levels that will inevitably undermine prospects of further existence. This will put the SIDS countries populations on the edge of very survival. Up to 73 percent of island states, home to 16 million people, will face increasingly dry conditions by the middle of this century. While rising sea levels are swallowing up their coastlines. We are talking about a clear threat that at least 42 of 57 small island nations face. Thus, it is not just a matter of climate. It is a matter of the security of these countries.
Previously, security implications of climate change have been discussed in the United Nations Security Council. In April 2007, under the Presidency of the UK, the Security Council discussed the interlinkages between energy, climate and security. In July 2011, under the Presidency of Germany, the climate change issue once again was discussed during an Open debate. Delegations of Span and Malaysia conducted an Arria formula meeting in June 2015 on the role of climate change as a threat multiplier for global security. New Zealand in July 2015 held an Open debate on peace and security challenges facing small islands developing states.
Less than two weeks ago the Security Council adopted resolution 2349 on Lake Chad Basin, which emphasizes the need for a better risk assessment and risk management strategies on climate change related risks. A need, which became ever so clear during the visit of the Security Council to the region in March. In a wider context, we believe that the UN system has to be equipped with necessary capabilities to provide adequate risk assessments regarding water scarcity, desertification, food security, etc. It would benefit all of us, including the Security Council, which will be in a better position to make decisions to prevent potential conflicts and sustain peace.
I hope that all participants will use today's Arria meeting to discuss in detail how the international community can approach the subject of climate change in relation to security challenges of SIDS.